First the numbers. Alibaba Group, one of many Chinese e-commerce firms that are referred to as "the Amazon of China," held its annual Singles Day this past week, and saw a 25% increase on last year's sales.
Singles Day is compared to Black Friday and Cyber Monday, which we all know collectively create the biggest sales event on the planet. Or so we like to think.
The problem with that narrative is that China's Singles Day, which by the way is on one single day, is bigger than both Black Friday and Cyber Monday combined. And then some. All told, Alibaba clocked over $38 billion in sales in 24 hours – that's more than Amazon's e-commerce revenue for the entire last quarter.
The image below shows Amazon's daily revenue for comparison. It should be noted this figure does not include digital revenue, so the real value will be higher, but even so Alibaba on a typical day clocks more than twice the revenue of Amazon.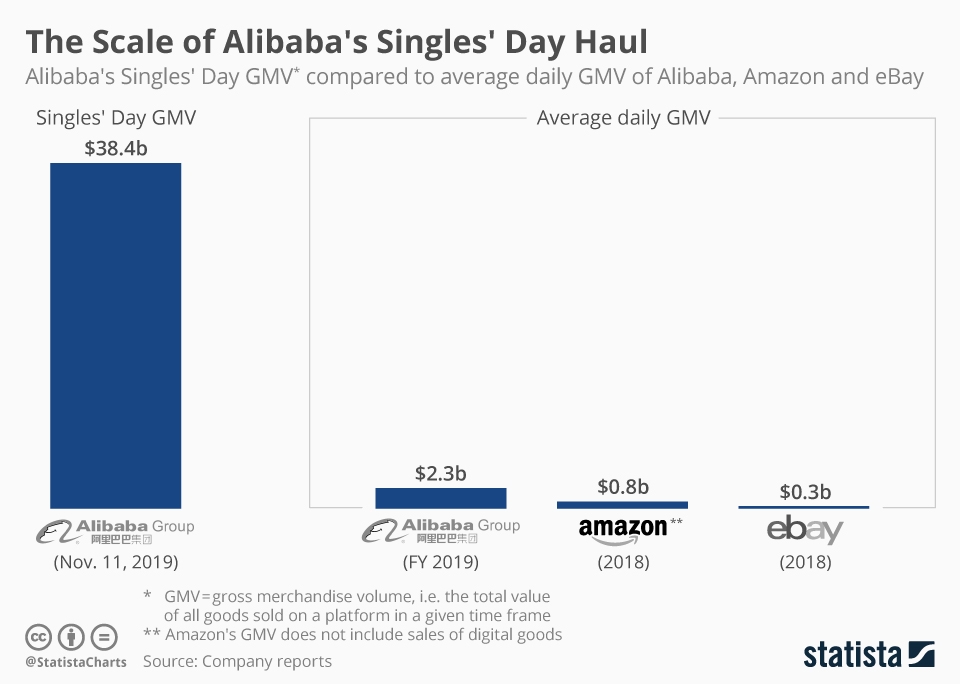 At which point some will be asking, what's this got to do with publishing? At best only a tiny fraction of these sales will have been books.
All true, but there are two things here that publishers should be considering.
First, we all know that Amazon is a powerhouse bookseller, both for digital (ebooks and audio) and print. But how did it get to be in the position today where it dominates western publishing?
It got there by offering a much wider selection of goods and services than just books, that pulled a much broader sample of consumers into its sphere of influence. Consumers that might never have considered buying books from Amazon before, but found they could do so, and embraced the opportunity.
With the upshot that, while publishing now makes up a tiny part of Amazon's own revenue, for publishers Amazon is often the single biggest sales platform.
And so it is in China, where the volume of traffic heading towards Alibaba means many more eyeballs potentially on publishers' titles.
Yet while China is, increasingly, on the radar of some publishers outside the country, many still treat this market as an afterthought, if they consider it at all.
That's understandable in that China is, unquestionably, a challenging market at many levels, with its own unique hurdles to entry.
But China is also an opportunity that, in terms of scale and potential rewards, is quite unparalleled.
We all know China is the biggest country in the world by population, with 1.4 billion people. (That's for now, at least. In fact India is likely to seize that crown early in the next decade.) And while population size isn't in itself a guarantee of more readers, it certainly helps.
More importantly, there are 854 million Chinese online – that's 2.7 times the size of the online population of the USA – and while the USA is at 96% internet penetration and has very little room to grow, China is still only at 60% penetration, and will easily top 1 billion internet users early in the next decade.
So let's focus here on the bigger picture that is the potential scale of the China book market.
As far back as 2016 China was being recognized as the second largest book market on the planet, in a global book market conservatively valued at $143 billion.
Let's stay with that 2016 assessment a moment to consider the enormity of what we have here, because it's easy to glance at the USA and China and misinterpret the rest.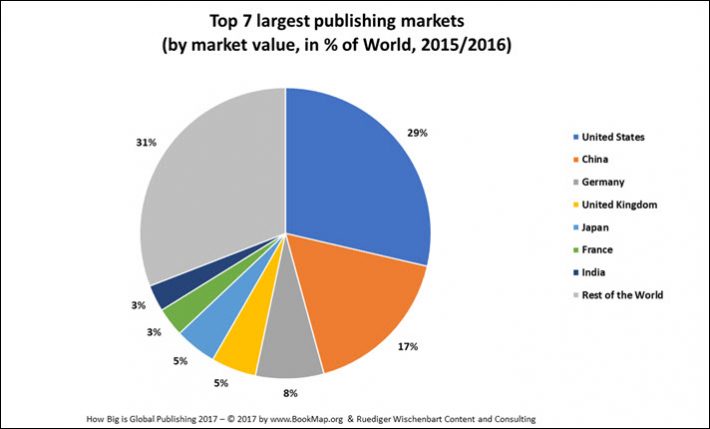 In 2016 the USA was the biggest book market, with 29% of the global market value (the big blue sector top right).
So yes, the USA was the biggest book market, by far, but even at this time that meant 71% of the global market was happening outside the USA, often the first and only market publishers take seriously.
Next in that pie chart comes China (orange, lower right), with an impressive 17% of the global book market.
Following clockwise from China we have Germany, UK, Japan, France and India. But that just mops up those small coloured sectors around the bottom of the pie chart.
So what about that humungous chunk – bigger than the USA – that's left over (light gray, top left). That's "the rest of the world". That is to say the collective value of the global markets that are not the USA, China, Germany, UK, Japan, France or India.
Yes, the much-ignored smaller book markets themselves are collectively bigger than the USA.
Or rather, were. This was 2016, remember.
Which in turn raises two points.
First, we don't have any similar assessment for the global book market in 2019.
What we do know is that the US market has at best experienced token growth (print stable, ebooks slightly down for mainstream publishers, stable or up for APub and indies, but compensated for by audio heading up across the board).
What we can safely say is that in many of the global book markets growth is continuing, both with print and, especially, digital.
And secondly, we can also safely say is that the China book market in 2019 is much bigger than it was in 2016.
How much bigger? Sadly we don't have a reliable total figure, but as per past posts from TNPS, there are strong indications that China is closing in on the USA as the world's largest book market, and quite possibly already is bigger than the US.
Let's consider some (not conclusive, but indicative) evidence:
This was a headline from TNPS in early 2019:
China ended 2018 with 225,000 bookstores and a $55 billion valuation. Has China usurped the US as the world's largest publishing market?
From TNPS at the time:
The latest report from China's Books and Periodicals Distribution Association tells us China finished the year with 225,000 bookstores and outlets, up 4.3% on 2017, with total sales revenue of 370.4 billion yuan ($54.7 billion), up 5.9% on 2017.

The Chinese government has played a big role in supporting publishing recently, as Xinhua reports:

Private bookstores played a significant part in the development, as 85 of the over 160 popular Sisyphe Bookstore chain as of October last year were opened in 2018 alone, and Yanjiyou, another popular brand, opened another 53 bookstores from January to November last year, according to an article on Wednesday's People's Daily.

According to the paper, the revitalisation of bookstores in China was largely due to favorable policies unveiled in recent years. After a national guideline on supporting the bookstore industry was issued in 2016, 28 provinces, autonomous regions and municipalities also released relevant policies to boost the industry.

For instance, 50 million yuan of subsidies has been distributed to 151 bookstores in Beijing since the release of the local guideline in July 2018.
Okay, that was the data coming out of China as 2019 kicked off. Per my comments at the time,
As yet this story does not have enough meat to make any firm assertions about the Chinese publishing industry, generally regarded as second to the US.

But given the boost in government support and subsidies, we may be looking at the first signs that China has bumped the USA to become the biggest publishing market.

The scenario of China as the world's biggest publishing market becomes all the more plausible when we factor in digital, which in 2015 was barely off the ground in China but is now a huge contributor to the publishing sector.

We'll need more than this one-off report from the Books and Periodicals Distribution Association to be sure, but it's certainly a plausible scenario that China starts 2019 the world's largest publishing nation both by output and by revenue.
Days later, and bringing this story full circle back to the Alibaba topic that kicked off today's post, TNPS ran the headline,
Is China now the biggest book market, redux. Alibaba says 30 million new Chinese readers were added in 2018.
Alibaba, which drew its numbers from its own online platforms, including Tmall, Taobao, Xianyu and the Alibaba ebook store Alibaba Literature, attributed the increase to,

"easy and convenient ways to buy books and the popularity of e-books."

The report asserts 30 million additional readers appeared in 2018, mostly from those born in the 1990s and 2000s, purchasing an average of 5.5 print books, but in this demographic ebooks were the preferred reading format.

Alibaba offered a further breakdown:

Compared with their elders, young Chinese born in the 1990s and 2000s prefer e-books to print books. 46% percent of e-book readers are people born in the 1990s. People aged 18 to 34 account for more than 60 percent of users on Tmall's e-reading app. The peak time for reading books on cellphones is from 9 pm to 11 pm.

Fiction, success literature and books in social sciences and the humanities are the most popular book genres for e-reading, while for traditional reading, people turn to children's literature, textbooks and supplemental materials, picture books, magazines and journals.

The year 2018 also saw a boom in sales, swaps or giveaways of used books. Data from Xianyu showed that over the past year, Guangdong residents traded or gave away 1.59 books per person on average, the most in China, followed by Shanghai residents with 1.11 books and Beijing residents with 1.08 books.
That information via China Daily. Refer to the original TNPS post for further links.
My take on this at the time?
Given its 1.4 billion population and its 800 million internet users this addition of 30 million readers – something a book market like the US, operating at near saturation point, can only dream of – is entirely plausible, but the real question is, could this be just the tip of the iceberg?

Alibaba is certainly a major player in the China book market, but it's not the only player. In terms of ebooks and online literature sales Alibaba Literature is generally recognized as coming second to Tencent's China Literature, which was spun off last year for $1.1 billion IPO.
And presumably few if any of sales from the 225,000 bookstores that China ended the year with will be included in the Alibaba numbers.

Back in April 2018 it was being suggested the Chinese ebook market alone could top a $5 billion valuation by 2020.

If we allow for Alibaba's 30 million new readers in 2018 and then assume even a conservatively similar figure from other players, then whatever the actual volume and value of the China book market we can safely assume it will be much bigger than we've previously allowed.
Still not convinced? China is also taking the crown as the world's largest film market.
It was back in 2015 that China jumped the US to take top spot for the most cinema goers. Hardly surprising, given China's huge population.

But the film industry wallowed in the complacency that in dollar terms – the only metric that matters for some – the US was unassailable.

Not any more. The Hollywood Reporter has an exclusive study today from PricewaterhouseCoopers (PwC) that forecasts China will topple the US as the most valuable film market in the world as soon as next year.

China, explains The Hollywood Reporter,

"will become home to the globe's top moviegoing audience in 2020 as the overseas OTT market soars, linear TV viewing shrinks and physical home entertainment fades to black."
Read more about that over at the TNPS post.
Here to refocus on China's book market – and at this point we need to redefine that term and talk about the China reading market, because in China, more than in any other country, print books, ebooks and audiobooks are just part of the picture.
There's also a parallel universe of digital reading where everything is done online, and which unsurprisingly is known as online literature.
Think Wattpad and the like, only bigger.
Wait, what? Bigger than Wattpad? But hasn't Wattpad got 80 million users?
It certainly has.
But at this point let's head across to China's most southerly province, where the Hainan Island International Book Fair is underway, all but unnoticed by the outside world.
Because it is there that we find Fang Zhenghui, Deputy Director of the China Foreign Languages Publishing Administration, speaking about how China's online literature has developed rapidly in recent years, thanks to mobile reading via the internet.
In 2019, reports Fang, China's online literature was translated into more than 10 foreign languages, including English, French, Japanese and Russian, and read by readers from more than 40 countries.
Alibaba Literature is one example. China Literature another. Baidu Literature another. There are any more.
I've not been able to put a definitive figure on the number of readers involved in this all but invisible sector of the global book market, but we have some strong indicators.
Yang Zhan of China Literature Limited states that the company has over 40 million overseas registered users, and that the highest views of a single literature item on the platform have exceeded 300 million.
Meanwhile He Hong, director of the online literature center of the China Writers Association, estimates China itself has about 14 million online writers and more than 450 million online literature readers.
Factoring in China Literature's 40 million users outside China we can safely say China's digital online reading market, quite apart from regular ebooks, print, audio, etc, is over 500 million strong.
And stepping back to see a bigger picture still when we factor in Wattpad's 80 million users and then add all the smaller online reading players, we are globally looking at an online reading market of perhaps 600 million, quietly happening alongside the mainstream publishing industry that only counts print books, ebooks and audiobooks, and that many publishers are completely oblivious to.
It's worth pausing here for one final thought on China as we try to absorb all this.
Because that 2016 global market valuation we have been referencing is of course for 2015 and even 2014, depending on the data available.
China Literature didn't even exist until March 2015, and by 2016 when this report stops had barely made an impact.
In 2017 it was staging a $1 billion IPO, and in 2018 buying its own film studio.
China Literature also owns its own TV studios.
When it comes to leveraging the verticals China Literature is in a league of its own, with online reading content regularly being turned into TV, films, and video games. Again all this quite apart from what is happening with mainstream print ebooks and audio.
It is estimated that fully 20% of China Literature's writers are full-time and making very tidy sums. The top ten online literature authors in China each earn more than $150 million a year.
Bottom line is we simply don't know how big the China book market really is, and we should be clear that the China book market valuations we do see surface occasionally do not routinely include the online literature sector.
One thing's for sure, however. The global book market is far bigger than we give credit for.
And it's very likely the larger part of it is happening in China.