We Start The Day Global today with e-visits to Botswana, India, Brazil, Kuwait and the UK.
First, this from twitter.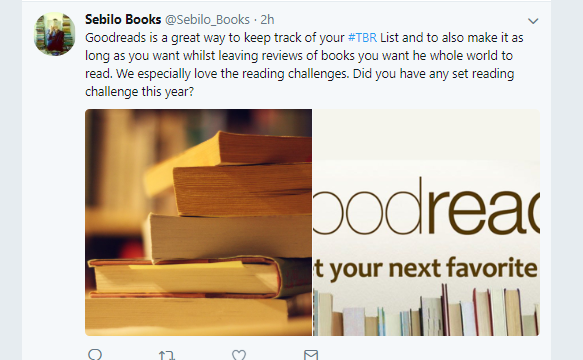 This is Sebilo Books advocating its readers to head along to Goodreads to find their next read.
We've all heard of Goodreads, of course.
Sebilo Books? That's a small publisher in Botswana in southern Africa.
The global book market is always so much bigger than you think.
From Africa to India, where
Aside from the fact that Prime membership costs less than elsewhere, the deal is the same. Prime members get to read from a curated selection of books at no additional charge.
This is different from Kindle Unlimited where readers pay a monthly subscription to read from a much larger selection of ebooks.
While it goes without saying that the curated books in Prime Reading are largely Amazon imprint titles and will not directly benefit authors outside the curated selection, there will of course be a drip-down benefit as those readers, perhaps trying ebooks for the first time, then move on to the larger Amazon catalogue.
Sticking with Amazon, and,
This is a story from Brazil's PublishNews that tells how Amazon BR is planning to hire 60 interns at its São Paulo operation.
Students undergo a process of formation and development while working in the company, being exposed to real challenges and projects in different areas. Students can apply for courses in: technology such as computer science, systems analysis, information systems, administration, marketing, accounting, economics, engineering, mathematics, statistics, communication, journalism, advertising and psychology. Benefits include the scholarship grant, transportation voucher, meal voucher and medical assistance. The company stresses that it hires qualified individuals regardless of gender, race, sexual orientation, religion, nationality, age or disability, and that it is not necessary for the candidate to have professional experience to apply for the internship program
Okay, nothing directly related to books here, but I mention this in the context of Amazon's South America plans –
Amazon to open a Customer Service Centre in Colombia in October, but Latin American and global Kindle expansion remains on the back burner

Amazon's Sweden plans –
Amazon Sweden: Data centres more likely than warehouses. Either way it's not books

and Amazon's Indonesia plans –
Amazon to invest $1 billion in Indonesia but once again books and ebooks are not on the agenda

to make the point that, while books may be the centre of our universe, books and publishing are just one part of a very large mosaic for Amazon.
Next to Kuwait and,
How do you think Kuwait Poets Society fits into the art scene in Kuwait?
Up until 2016 the art scene in Kuwait was kind of underground. Visual arts have been around for a while. In 2016 music and poetry flourished more publicly. We are one of the first who used to host events every two weeks or every month. People started learning about poetry as an art or a form of expression and we always work with musicians.
What do you think is currently happening to the poetry scene in Kuwait and the Gulf of Arabia?
Poetry is still growing but it is not new to the Gulf. There have been open mics that have been going on for a decade now. Poetry still has an underground feeling to it, but maybe poetry will always be like that. I don't think it is supposed to be mainstream. It has beauty and coolness to it. Music will expand more.
Staying with poetry and staying in the Middle East,
But only two are by women, as nearly all of the poetry translated from Arabic to English is by men
A couple of examples to whet your poetic appetite:
4) Adrenaline, by Ghayath Almadhoun, trans. Catherine Cobham (Action Books, 2017)
This collection was longlisted for the prestigious 2017 Best Translated Book Award. You can read two of the poems over on The Guardian. "How I Became…" begins:
Her grief fell from the balcony and broke into pieces, so she needed a new grief.
When I went with her to the market the prices were unreal, so I advised her to buy a used grief.
We found one in excellent condition although it was a bit big.
As the vendor told us, it belonged to a young poet who had killed himself the previous summer.
She liked this grief so we decided to take it.
Now to mainstream publishing and the UK, where
Faber saw "another stellar year" for the financial year ending March 2018, although with turnover and profit narrowly down on the previous year's results due to a dip in e-book sales and fewer fiction paperbacks.
Check the OP for the numbers. I mention it here just to make the pint that, amid all the doom and gloom about how publishing is facing oblivion because no-one has any time to read any more, there's very little real evidence to suggest that's the case.
Rather, just the opposite.