Western publishers would do well to look beyond the remaindered books and see the bigger picture.
---
After a year in pandemic-induced limbo the book-selling phenomenon that is Big Bad Wolf finally returns to in-person events this month, but with a twist.
Launching in Malaysia today (April 1-12) the in-person event, under strict hygiene controls as the pandemic is far from over in Malaysia as elsewhere, is run simultaneously with a nationwide 24/7 online service – a hybrid model never tried before, but anticipated by TNPS back in November.
As I said at the time,
Too soon to say what long-term impact the online experience will have on Big Bad Wolf's plans, but likely we will see a hybrid model in the future for its established markets and perhaps, as with Singapore this year, a digital-first initiative in new markets where the brand is less well known.
Whether we will see digital-first launches in new markets apart from Singapore has yet to be revealed, but I see no reason to revise that forecast.
The pandemic and associated restrictions are going to be around for a good year or more to come, even with the gradual roll-out of the vaccines, and even where in-person events are permitted it's unlikely they will in the near future return to the grandeur and scale of what was the Old Normal for Big Bad Wolf.
The Malaysian event will be in the form of two separate but simultaneous in-person events in the Southern region of Malaysia, running 10AM-10PM. The Toppen Shopping Centre and AEON Mall Dato' Onn, Johor Bahru, are the venues.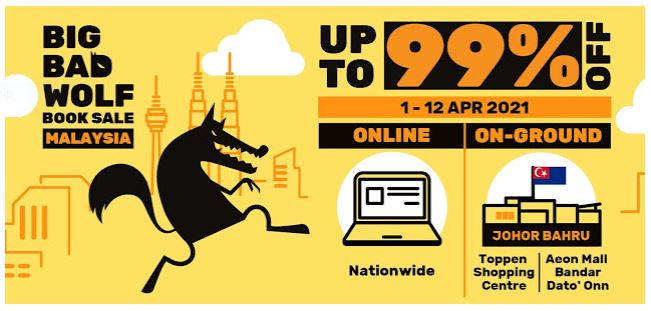 The online event meanwhile will be available nationwide – and of course thereby extends Big Bad Wolf's reach exponentially, embracing a potential audience of 29 million online Malaysians.
As always, the titles available will be primarily remaindered stock, sold at prices no booklover could resist, and as ever the content will be almost all English-language titles – a reminder of the huge demand for English-language content in markets beyond the core countries mainstream western publishers give consideration to.
Per this TNPS op-ed back in pre-pandemic 2019,
25 million books sold to 3 million visitors across 25 cities, and it's only August. Big Bad Wolf shows us the global demand for affordable English-language books.
As well as Malaysia and Singapore as above, Big Bad Wolf sells (by the million) English-language books in Cambodia, Indonesia, Myanmar, Pakistan, the Philippines, Sri Lanka, South Korea, Thailand, Taiwan, and the United Arab Emirates.
Western publishers would do well to look beyond the remaindered books and see the bigger picture.