World class books, local content is the them behind the launch of a new publishing house in Pakistan. But it's not clear how much focus there will be on digital in a country with more internet users than the UK.
---
Based in Karachi, the newly-launched publishing house Lightstone Publishers aims to provide "a much-needed boost to the habit of reading and writing in Pakistan.
At a launch event last week, streamed live on Facebook, Lightstone Publishers Managing Director Ameena Saiyid OBE told 100 heads of leading Pakistani and Middle East schools:
Now schools in Pakistan will have textbooks that are world-class and yet affordable and based on the Pakistani context, values, history and culture and cover our curriculum. Lightstone school textbooks are low-cost, high quality in content, design and production, and readily available throughout Pakistan.
Keynote Director Saadia Mirza elaborated:
Lightstone Publishers support schools, pupils, and teachers in Pakistan and Pakistani schools in the Middle East by publishing in all the core subjects such as English language and reading, Urdu language and reading, Social Studies, Maths, Science, Grammar, and Information Technology.

Lightstone Publishers organise face-to-face and online teacher training and provide teachers' guides and lesson plans and online and face-to-face teacher training. Lightstone Publishers partner with Sabaq/Muse to provide educational digital resources.
While Publishing Director Nadia Ghani said:
As Singapore is recognised as the world leader in maths and science, we have made alliances with leading Singapore publishers to adapt and publish the courses in maths and science. We are also collaborating with Cambridge University Press.
But Ghani stressed Lightstone Publishers was not just about textbooks and per the press release announced the publication of some ground-breaking general books, both fiction and non-fiction, by authors, including Tariq Khosa, General Fida Hussain Malik, Liaquat Merchant, Professor Sharif ul Mujahid, Sherry Rehman, Fouzia Saeed, Ambassador Abdul Basit, and a new novel by Irshad Abdul Kadir.
Ghani added,
As books from India can no longer be imported, Lightstone Publishers will be filling the void of publishing quality fiction by Pakistani writers.
Via Pakistan's The News.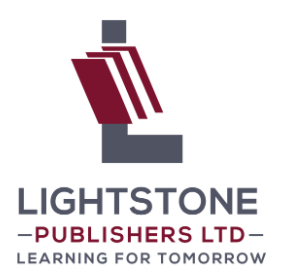 On the Lightstone Publishers website homepage Managing Director Saiyid offers further insights:
Proudly Pakistani-owned, Lightstone Publishers publish high-quality, affordable books for schools in Pakistan, with teacher's guides and lesson plans, and we develop teachers professionally. Muse's digital resources designed with the STEM approach support our courses by helping primary school teachers teach Maths, Science, Urdu, and English through games, stories, songs, and animations.

Many of our books are developed indigenously while some include content from renowned publishers: all meet the Pakistan National Curriculum objectives and are available throughout Pakistan. Our maths and science courses have been developed in alliance with leading publishers in Singapore, a world leader in maths and science education. Lightstone books build 21st century skills: critical thinking, creativity, compassion, collaboration, and communication. We also publish fiction and non-fiction for adults.
From the prepared statement at launch it is not clear of Lightstone Publishers' engagement with digital will extend beyond the educational sector and embrace digital versions of its trade publishing titles.
Mainstream digital reading has yet to take off in Pakistan due to the classic chicken and egg problem of no national platform for digital reading and insufficient digital content to make such a platform worth investing in. Pakistan's internet penetration is at just 32.4% and this may act as a deterrent both to potential platform builders and to Pak publishers thinking about digitising.
But it's worth reminding ourselves here that with a population of 220 million, that 32.4% equates to 71.6 million Pakistanis online – more than the UK.
Follow Lightstone publishers on twitter: @LightstoneP
---
Previous TNPS coverage of the Pakistan book market includes: