While not the first publishing event to be hit, the Bologna Children's Book Fair was one of the highest profile casualties of the coronavirus pandemic, first being postponed, then cancelled outright as a physical event, before a rushed effort at salvage resulted in an online substitute taking place as this month began.
Rushed being the operative word here. Communication about the online event was poorly managed in the wake of the confusion and uncertainty caused by postponement and cancellation, and of course there simply was not the time available to put on anything special in the way of an online substitute event.
By any measure this was adequate, but not spectacular.
Except that its reach was indeed spectacular, more than doubling its audience for 2019 when a 5% increase in visitors and a 20% increase in international visitors took the Bologna Children's Book Fair audience to 28,946, compared to 27,642 in 2018.
Typically about half the 30,000 visitors are from outside Italy.
This year total attendance, measured by online visitors, more than doubled, to over 60,000, of which 75% – 45,0000 – were from outside Italy. There were over 400,000 page views across the BCBF sites during the online event which ran May 4-7.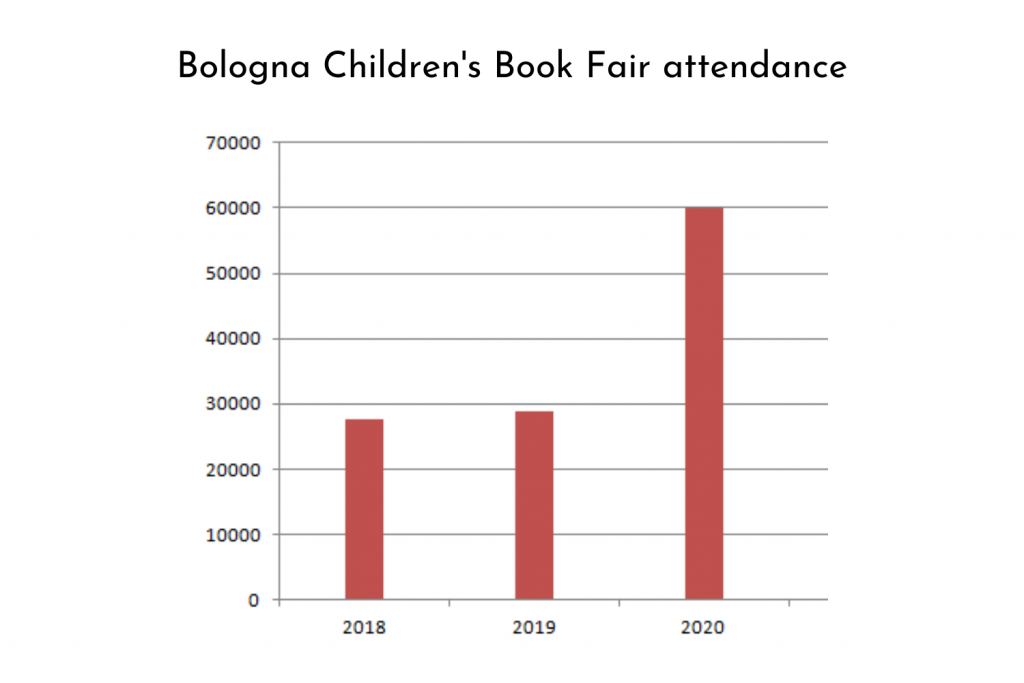 In a closing statement BCBF said,
The fair wraps up with great success in terms of participation and audience satisfaction for the special edition that brought online many BCBF activities Fairtales, BCBF Galleries, BCBF TV, BCBF Global Rights Exchange The new platforms are here to stay, with countless exclusive contents freely accessible to the audience worldwide.

Driven by the determination not to lose its role as a meeting place for the international community of children's publishing, and thanks to a major investment making free and open access possible for all the activities, Bologna Children's Book Fair has been able to digitize its rich programme of events, making them accessible for an audience of enthusiastic onlookers worldwide – who were up until now precluded from the fair because of the professional nature of the event.

Over 500 publishers in 4 days registered on the Global Rights Exchange platform, for a total of 20,000 uploaded titles in digital format; 240 young illustrators from 47 countries took part in the unique opportunity of the 24H Illustrators Marathon; 2500 illustrators from 80 countries have decorated the virtual Illustrators Wall; 32 awards were announced online, 8 exhibitions presented to professionals of the industry as well as book lovers from all over the world, and over 40 events were featured.

BCBF TV broadcasted live shows as well as in-studio productions and live streaming events, featuring a unique and diverse programme of webinars, conferences, talks, interviews and award ceremonies, making 30,000 views in just the 4 days of the fair. The social media accommodated the large and loyal communities of Facebook (57,000 followers), Instagram (50,000), Twitter (12,800) and LinkedIn (4,300), amplifying not just the featured content, but also giving voice to an audience enthusiastically engaged in the new format (with a coverage of 550,000 posts and over 670,000 tracked impressions).
All this, remember, despite the online event being flung together at the last minute.
After first an ill-advised postponement date –
and then a brave but not entirely reasoned insistence that the show would go on –
even as the biggest participants voted with their feet –
the event was formally cancelled for 2020 in March –
leaving less than two months to put together the online substitute event.
Here's some of the highlights from the online event: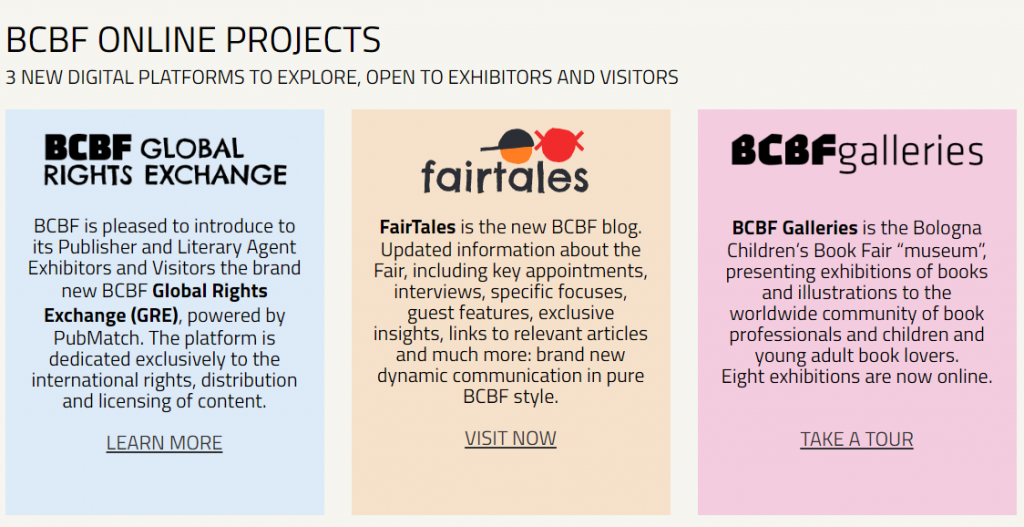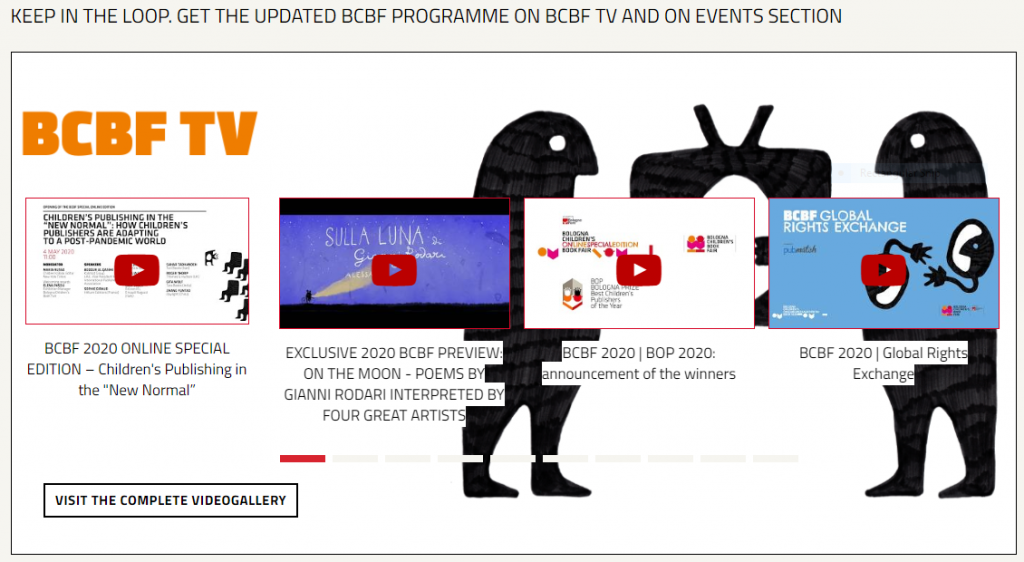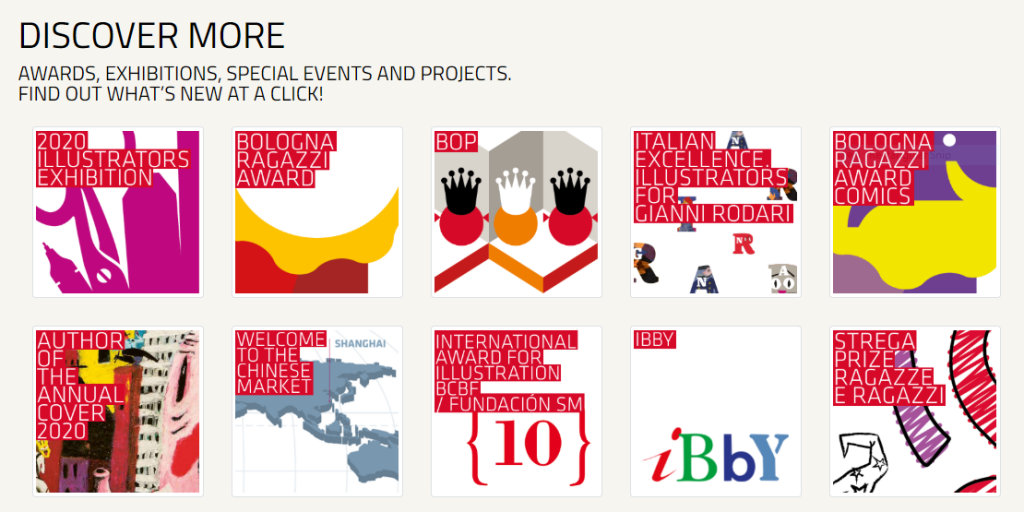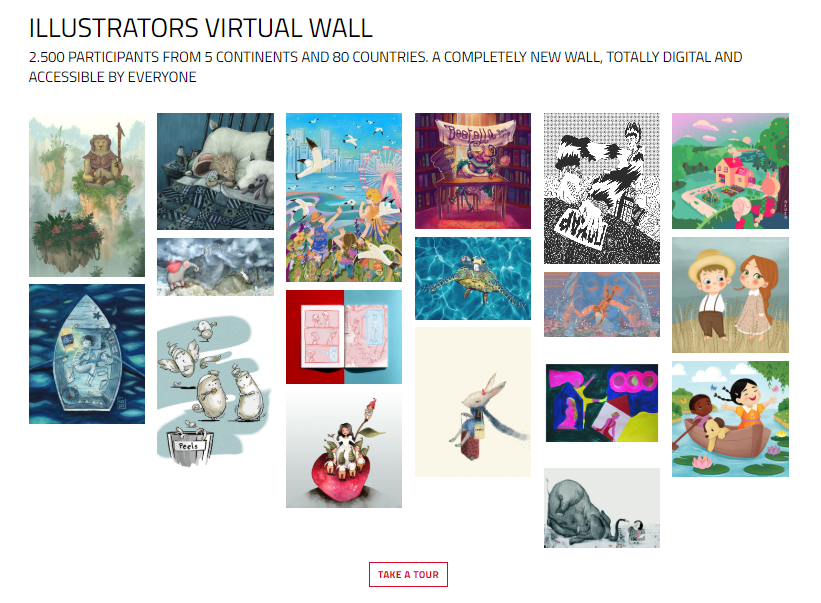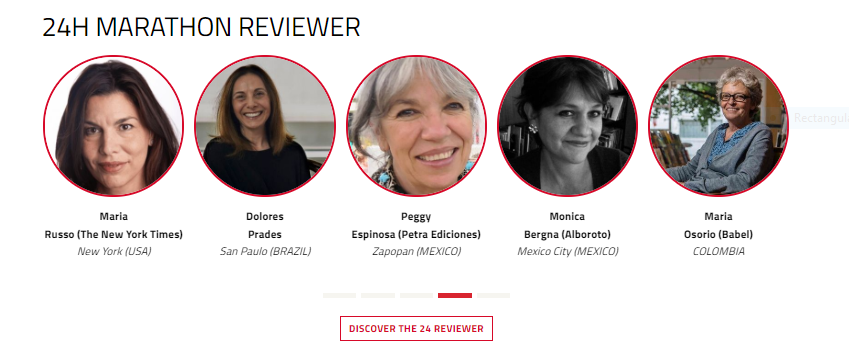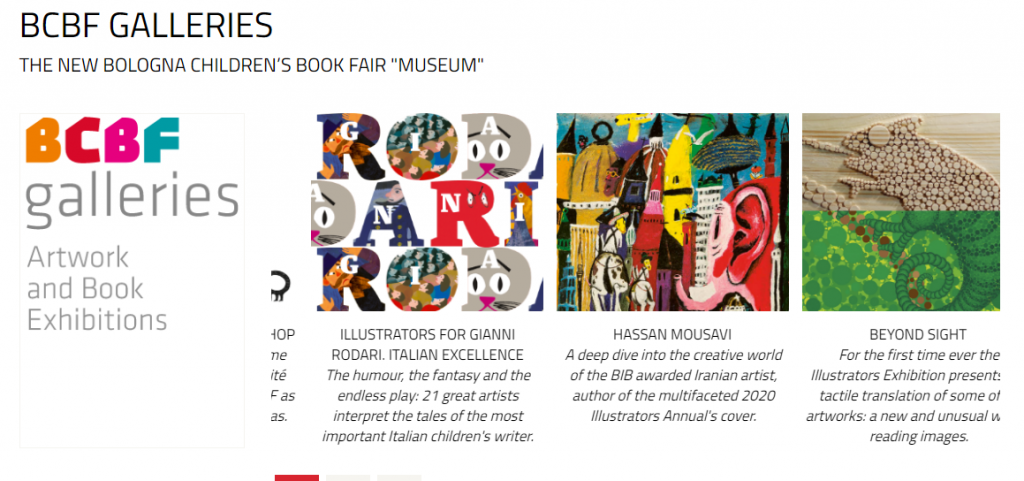 Okay, so hats off to BCBF for what they achieved. But now let's get to what really matters here:
The implemented platforms will now become one of the fair's permanent assets, a tool allowing access to a great deal of contents and opportunities for everyone.

The Global Rights Exchange will remain freely available for professionals around the world until the end of the year.

The online programme was divided into three sections: BCBF TV, broadcast of the video contents during the fair, (and is) now available for future use of professionals as well as fans.

The Fairtales blog (will) from now on (be) the 'official voice' of the fair, with its many exclusive contents.
The statement goes on to list the various awards held this year online, and the illustrator events, before detailing the online conferences:
The BCBF Online Special Edition offered a packed programme of conferences and seminars. First of all, the inaugural round table of nine international publishers who discussed and exchanged opinions on post-health-emergency strategies. Alongside this: the focus on comics "THE FAST GROWING CHILDREN'S COMICS AND GRAPHIC NOVELS MARKET" and "COMICS IN BASQUE COUNTRIES"; the "BOLOGNA LICENSING TRADE FAIR WEBINAR"; "WELCOME TO THE CHINESE MARKET. COMMON CHALLENGES, SHARED OPPORTUNITIES", in collaboration with China Shanghai International Children's Book Fair and China Publishers Magazine; the "FOCUS MARKET ON RUSSIA – NEW MICBF IS COMING!", in collaboration with Moscow International Book Fair; moreover, "A TRIBUTE TO GIANNI RODARI" with video contributions of some among the 21 artists of the exhibition "Illustrators for Gianni Rodari. Italiane Excellence"; the traditional and much awaited "DUST OR MAGIC MASTERCLASS ONLINE EDITION"; "WHEN ADULTS READ TO CHILDREN", about adults and children sharing reading experiences; "THE GREAT ESCAPE: LIBRARIES AND BOOKSTORES, THE FASTEST (AND LEGAL) WAY TO EXIT THE QUARANTINE" moderated by Giovanni Nucci; the tribute to Gianni Rodari "ON THE MOON – THE POETRY OF GIANNI RODARI INTERPRETED BY FOUR GREAT ARTISTS"; "LIBRARIES, CHILDREN AND PANDEMICS" with the members of the Libraries Commission and Children's Services of the AIB – Italian Librarians Association; and, finally, two appointments curated by IBBY Italia: "THE WINNERS OF THE HANS CHRISTIAN ANDERSEN AWARD", with the live participation of the winning illustrator Albertine, and "READING TO GROW UP", a live conversation hosted by IBBY Italia, featuring Roberto Piumini and Fabio Stassi.
Of course a key event of any trade-facing book fair is licencing, and needless to say BCBF online did not disappoint.
The parallel Bologna Licensing Trade Fair (BLTF) also achieved great success online with the publication of the Property Guide, with over 300 IPs, webinars and other virtual events, making it possible to meet the main players of the industry, and reconfirming itself as a great platform connecting the worlds of licensing, publishing, digital and entertainment.
The BCBF statement concluded noting some of the events planned for 2020 had been held over until 2021. No explanation was given for that but most likely it simply wasn't possible to fully integrate all the original plans into the last-minute online event.
The big question, which we'll have to wait until much later this year to have any meaningful answer to, is how the 2021 event will proceed.
BCBF has already made clear many of the online features of 2020 will become permanent fixtures, and of course the organisers will be digging deep into the online data and what it could potentially mean for the future of the fair.
Most obvious will be the enormous interest and participation from those who in normal circumstances would not be able to attend a live event for reasons of cost or practical hindrances but were eager to participate at-distance.
Imagine a 2021 Bologna Children's Book Fair where, alongside as much of a real-time physical event as circumstances will allow, there is also a carefully orchestrated online event with a full year's advance planning and preparation.
It's no exaggeration to say future "attendance" and participation at a hybrid physical and online event could leave this year's 60,000 visitor count in the dust, with potentially many hundreds of thousands of online professionals and booklovers engaging.
In monetising terms BCBF could easily earn more from the event than the "real thing" by the simple expedient of putting a paywall on access to premium online content, conferences, etc, that could be substantially less than the entrance fee to the fair and still make more money through sheer volume.
And obviously there are untold advertising opportunities whereby advertisers can reach a global audience beyond their wildest dreams at the real-life event.
But as the rushed nature of BCBF 2020 shows, there are wrinkles to be ironed out moving forward.
At which point I had intended to explore some of the obstacles that a successful online event, but in fact Porter Anderson over at Publishing Perspectives has already made an insightful list, and I will defer to his experience and summary:
If an online event is aimed at the industry—as Bologna's was, and as more being announced for the summer and autumn will be—producers will be looking at a shortlist of challenges distinct from those in a consumer event.

• Navigation: A publishing executive, rights director, literary agent, or editor won't arrive at a digital-event site with a lot of time to enjoy extensive graphics or hunt around through layers of welcoming material to find the material she's looking for—a live stream or timed video playout, perhaps. The faster someone can land, determine where to go, and click through to the right place without mistakes, the better. In the physical setting of a trade show or conference, we have more claim on our attendees' time and attention than we do in the digital setting. Efficiency counts.

• Visual design: It sure is great when an online presentation's design serves navigation and straightforward communication. When it doesn't, it can be prettier than it is practical. Functionality is more important in the professional online setting, just as it is in real life. There's a reason that conference tables are kept clear of decor, right?

• Timing and translation: Our internationalist audience here at Publishing Perspectives knows the extraordinary dance of the time zones we all perform in our communications and other coordinated efforts (normally including extensive travel). If your event online is something you'd like to see draw the world publishing audience, consider immediately available replays of your live events—which cannot possibly suit everyone's time zone.

And think about audio channels that can provide translation as an option. If you're thoughtful enough and able to handle these elements well for the international industry, we recommend you promote them liberally so that everyone knows your work is available and accessible across borders and time zones. It's also a mistake to announce a time for a live event without its time-zone designation. Don't ask your users to guess.
Other online events this year will no doubt resolve some of these challenges, but likely we'll have to wait until October and a hybrid Frankfurt Buchmesse to see what really is possible, and what the future of trade-focussed book fairs will look like.