Very little information available (or at least that I can find) for the 3rd annual Kismayo Book Fair, which will run July 7-9 this year. The website is showing a dead-end, but both Facebook and twitter report the fair is about to kick off.
Kismayo is a port and commercial capital of the autonomous Jubaland region of southern Somalia, is one of a handful of cities that will be hosting Somali book fairs this year, along with Mogadishu, Hargeysa and Garowe.



I've not covered Kismayo before so no archived posts to refer to, but for those wanting a flavour of the Somali book scene this post on the 2018 Mogadishu will give you an idea of the challenges booklovers face in this troubled country.
The Mogadishu Book Fair: an oasis of tranquility in a troubled land

It's so important the international publishing community support the micro-publishing events that are keeping reading and the love of books alive in countries less stable than our own, so do find time to show some solidarity by following the Kismayo Book Fair on twitter – @KBF2019 – #KBF2019 – and Facebook.
And if anyone comes across any English-language coverage of the event, or can offer to translate any Somali coverage, do let me know.
Meantime we have this from twitter introducing one of the guests.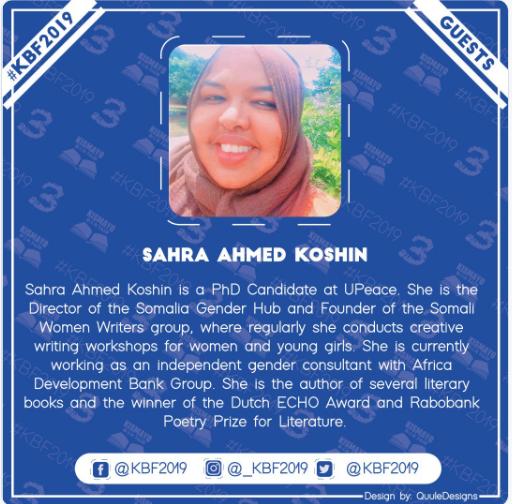 Sahra Ahmed Koshin may not be a name familiar to all, but she's at the forefront of the fight for gender equality and the rights of children in Somalia and beyond.
She also writes poetry. Check out this powerful yet beautiful poem Let Me Be A Child, I Beg that manages to combine those passions