It is a truth universally acknowledged that we in the west can't get enough Jane Austen. But what about elsewhere in the world?
The Bollywood-style movie Bride and Prejudice no doubt springs to mind, but as the term Bollywood-style suggests, the film wasn't actual made in India.
But given the social parallels between Regency England and modern-day India and Pakistan it should come as no surprise Austen's novels resonate on the sub-continent.
In Pakistan the Jane Austen Society of Pakistan (JASP)  has chapters in Islamabad, Lahore, Karachi, and London, and 1800 online followers from 45 countries.
JASP's founder Laaleen Sukhera is now also editor of Austenistan, a seven-story anthology reflecting on how Jane Austen's works gel with the modern Pakistan.
Asian Age describes the anthology as
seven stories set in contemporary Pakistan, Austenistan is a clever piece of work amalgamating a range of emotions, from savage sarcasm, to love and second chances in a contemporary society that is still holding on to the last shreds of sense and sensibilities from Regency England … written by journalists, editors, lawyers and medical health professionals, and show in various degrees how Austen's works still hold relevance in the modern society, at least when it comes to love, loss and the marriage market.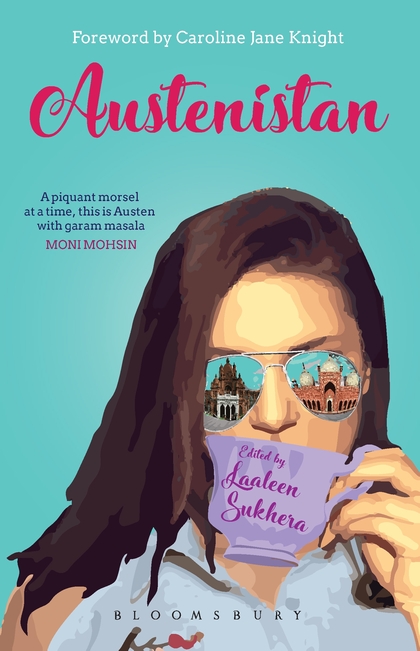 Explaining how the anthology came about, Sukhera said,
We toyed with the idea of writing fiction someday and I remember going home and thinking to myself, 'why not now? What are we all waiting for?
For First Post, Sukhera described Austen as a writer – and a woman – far ahead of her own time.
Because when you read her work, it doesn't feel like you're reading something that was written so long ago, it doesn't feel dated — it  still feels fresh … the characters resonate over centuries, and they probably will over more centuries. We still see them around us, we still identify with them. We don't feel like the heroines are terribly old fashioned; in fact they're independent. There are social constraints on them, but hey — that's what we relate to. They're sorta like us! We're feminists but we're still trying to operate within social codes. We still cannot escape the 'marriage market' either; we're still expected to 'settle down'.
On my travels I always carried an Austen novel or two to share, and while I'm not aware of any Jane Austen societies here in West Africa I'm sure they exist.
After all, Jane Austen's appeal is itself a truth universally acknowledged.