Revenues up 11.3%, sales up 16.4% and buyers increased by 6.1%, according to the latest survey report from Börsenverein.
The survey, which excludes textbooks and specialist books, suggests an extra 2.7 million people bought ebooks in the first six months of 2018 compared to the same period last year. On average German readers are now buying 6.2 ebooks per year.
With average ebook prices falling by 4.3%, 16.7 million ebook sales are calculated by the Börsenverein survey.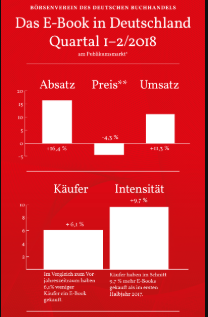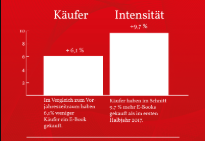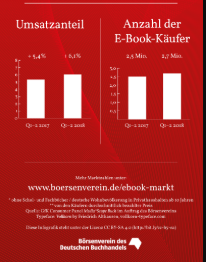 Full-size infographic here.
The Börsenverein des Deutschen Buchhandels publishes quarterly developments in the e-book market in cooperation with GfK Entertainment. The projections of e-book sales and sales are from the GfK Consumer Panel Media * Scope book with a total of 25,000 people. They are representative of the German resident population over the age of ten, for a total of 67.7 million people.
Surveys of course have their limitations, but unlike trade figures from booksellers and publishers the survey results will likely better reflect the balance across all publishing origins, including self-publishers and A-Pub, which are not otherwise counted, although it's not clear how, if at all, subscription downloads and digital library downloads will be accounted..
Hat tip to Sebastian Posth for this via twitter @posth
And don;t forget you can follow TNPS every day on twitter – @thenewpubstd