With the Nubico acquisition the rivalry between Sweden's Storytel and Nextory just moved to a whole new level of excitement and promise, begging the question did Jonas Tellander miss an opportunity?
---
Nextory's ninth market is confirmed as Spain, which will join Sweden, Finland, Denmark, Germany, Austria, Switzerland, the Netherlands and Norway, following the acquisition of the Spanish streaming service Nubico, previously owned by the telco Telefónica and publishing house Grupo Planeta.
That Nextory is moving into Spain, a fast-growing market of almost 43 million internet-users, comes as no surprise. The acquisition of Nubico, on the other hand, is, and demonstrates Nextory CEO Shadi Bitar's vision for the company. Nextory will follow Storytel's path of launching in virgin territories and also acquiring established players to hit the ground running.
Per the Nextory press release the company will offer 300,000 ebooks and audiobooks upon launch later this year, with a ready-made audience (per Carlo Carrenho at Reboot Books) of at least 300,000 subscribers to the Nubico service, which will be rebranded as Nextory.
Bitar said:
Nextory's plan is to continue to expand internationally and maintain our fantastic growth to eventually become one of the largest players in the book industry worldwide. This deal really puts Nextory on the map globally. It is an important step for us who will deliver long-term value while maintaining our vision that more people should read and listen to stories that enrich their lives.
Worldwide at this point still means western Europe, so Nextory has a way to go to compete with Storytel internationally (currently in 25 markets globally, with 40 the target for 2023) but there's much to be excited by with this move by Bitar.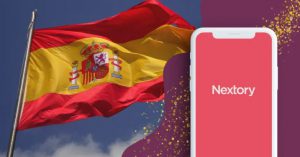 First, here's what Santos Palazzi, Head of Mass Market & Digital at Grupo Planeta had to say:
Planeta has experienced healthy and steady growth in Nubico over the past five years. When Nextory handles the digital subscription service, Planeta's catalog will reach even wider audiences and new territories
The size of the Planeta catalogue Nextory will be inheriting is unclear, but as the leading publishing house in Spain and Spanish-speaking Latin America, and the second largest publishing house in France, this will be a major boost to the overall Nextory catalogue size and to revenue growth, and leaves open the question, will Bitar target Latin America next?
For Telefónica, Francisco Borja de Nicolás said:
The joint partnership between Movistar and Nubico has been very rewarding since 2013. Our customers have been offered a reading service with the best quality and price ratio, and we will increase the value through Nextory for many years to come. Movistar and Nextory will continue to provide a strong and attractive catalog of ebooks and audiobooks.
Nextory's Spanish unlimited subscription offering as it takes over the Nubico operation faces competition from Storytel and Amazon-owned Audible, which launched in September 2020.
But as Carlo Carrenho notes, the most important part of the Nextory press release is this:
By acquiring Nubico, Nextory also maintains strong and strategic alliances with both Grupo Planeta and Telefónica.
Grupo Planeta's biggest rival in the Spanish-language markets, Penguin Random House, famously pulled all its digital content from unlimited subscription services last year –
leaving PRH at a disadvantage of its own making.
But my thoughts are that the "strategic alliances" Bitar refers to suggests more than just a continuation of an existing relationship.
Nextory's market reach is, as Santos Palazzi notes, a big opportunity for Grupo Planeta to develop and push content beyond the Spanish borders, and all the more so if Bitar is planning a move on Latin America.
Meanwhile the continuing partnership with Telefónica could be deemed a strategic alliance if both parties have in mind that Telefónica operates in thirteen countries around the world, and this is simultaneously a springboard for Nextory and a chance for Telefónica to offer further Value Added Services in its existing and future territories.
With the Nubico acquisition the rivalry between Sweden's Storytel and Nextory just moved to a whole new level of excitement and promise, begging the question did Jonas Tellander miss an opportunity?