"Today, access to unlimited subscriptions is considered a natural and modern form of "ownership" for a large and rapidly growing group" – Jonas Tellander.
---
Storytel's 2020 annual report will make for light reading for TNPS regulars who have followed our extensive coverage of the Storytel 2020 milestones as they happened, but there are a few nuggets of new information to be mined.
Storytel aims to be profitable (defined as "when the local gross profit after deductions for payment fees and content costs exceeds our marketing costs and costs for operating the local business") in each new market within five years of launch, and so far has yet to fall short.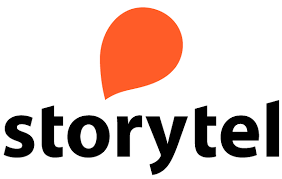 The 2020 annual report confirms that all countries launched prior to 2015 (Sweden, Denmark, Norway, Netherlands) and also Iceland (launched in 2017) were profitable as 2020 ended.
Finland and Poland, both launched in 2016, are expected to pass break-even in 2021, along with Russia, which only launched in 2017.
Storytel CEO Jonas Tellander has some interesting takes on Storytel's influencer status in the Scandinavian and global publishing industry that are worth quoting in full:
(Since before the pandemic) the flexibility and digital availability of smartphones have made it possible to start to establish and create new global consumer behaviour.

Today, access to unlimited subscriptions is considered a natural and modern form of "ownership" for a large and rapidly growing group. The accessibility and attraction of Storytel's global catalogue with more than 500,000 titles in 30 different languages continues to be a clear indication of this.

The Nordic market is the most developed audiobook market in the world in the ongoing digital transformation on the book industry. It is becoming increasingly obvious in this region that the audiobook is not just growing rapidly among users but also as a pop cultural phenomenon, in its newsworthy value, and most importantly as the primary driver behind the growth of the overall book market.
Tellander rounds this off with Swedish Publishers' Association statistics that showed the total book market grew 8.7%, subscription grew 32.3% and audiobooks as a format made up 57% of all Swedish book sales and 90% of all fiction sales in 2020.
Noting Finland's similar trajectory, where audiobook sales doubled in 2020, Tellander says audiobooks now make up 20% of the Finnish book market.
Tellander's preferred statistics for the global audiobook market is SEK 40 billion ($4.6 billion) with 15% annual growth anticipated through until 2030.
Per past TNPS reportage, Storytel intends to grab a substantial share of that growing market.
Confirming Storytel's commitment to audiobooks as the primary driver, Tellander tells us:
Our journey towards this goal continues to be influenced by strong expansion and long-term investments and acquisitions in all parts of the audiobook's value chain.

Streaming of audiobooks is in focus today – both in the book industry and by users and in popular culture – in a way we have never seen before. It is our vision to make the world a better place through fantastic stories that can be shared and experienced anytime, anywhere and by anyone. This vision is stronger than ever.
It's clear from Tellander's comments that ebooks will remain a secondary consideration for the company through this decade. While Storytel describes itself as "one of the world's largest subscribed audiobook and e-book streaming services", ebooks barely warrant a mention in the 2020 report.
Per past discussion here at TNPS, I foresee headwinds for Storytel's audio-facing focus as this decade unfolds and the low-hanging fruit markets becomes increasingly challenging.
Not here to revisit those arguments other than to note the global book market is growing rapidly, especially in the digital sphere, and text formats like ebooks and online reading still offer enormous promise around the world.
That's not to suggest Storytel's vision is unsustainable, rather that other players are in and will enter these markets with a broader balance of subscription text and audio that may yet challenge Tellander's aspirations.
The market dominance of the audiobook format we see in Scandinavia, and especially in Sweden, is unlikely to be replicated elsewhere, if only because of the production costs involved against the small unit margin returns, which will limit publishers' meaningful engagement in markets less mature or physically (by online users) smaller markets.
There's also the Amazon factor. While Storytel has mostly avoided head-to-head confrontation with Amazon's Audible, there is the ever-present threat that Amazon could decide to ditch the one-credit monthly subscription plan and jump in with the unlimited model across the board (as it already has done in Italy and Spain).
That's not a big concern right now, where Audible is focussed on the US/UK/Canada where Storytel has no presence.
But as I explored here at TNPS last month, there are openings ahead for Storytel to get a foothold in the key English-language markets, as Scribd is already doing.
But let me conclude this essay by noting a rising tide lifts all boats, and per the annual report, Storytel sees real benefits of the streaming model across the board, that publishers will want to take heed of:
80% of users say that they read/listen to more books since subscribing to Storytel.
80% of users say that they read/listen to books more often since subscribing to Storytel.
60% of users say that they read/listen to more books from different genres since subscribing to Storytel.