"We want to tell amazing stories tailored to different languages, different tastes, and different moods. We know how important it is to have a slate that offers diversity and variety." By 2030 Netflix plans to have 500 million global subscribers
---
With 4G rolling out across much of the continent of Africa – 526 million of the 1.3 billion population of whom are already online – competition for eyeballs and subscription dollar-equivalents is fierce is the video streaming arena, where Netflix, Amazon Video and a host of other SVOD players are fighting to be first choice.
Right now Netflix has "only" 1.4 million subscribers across Africa, and with freesat services widely available it will need more than just re-runs of American sitcoms to compete in a country like Nigeria with its own well-established film and TV industry.
Netflix understands this and is committed to original localised content as well as international content provision –
– not just in Nigeria but globally. Netflix began this year with just 42% of its revenue deriving from the USA.
In its latest move to reach new audiences in Nigeria, following a successful trial of the model in South Africa and Egypt -Netflix is offering a monthly rate of NGN 1,200 ($2.65 – less than half its regular rate for Nigeria) to mobile-only subscribers. The logic being not to profit now but to build a loyal audience for the future.
---
A half billion subscribers by 2030
---
By 2030 Netflix plans to have 500 million global subscribers, up from 193 million in mid-2020.
Africa will be a small but fast-growing part of that, as this 2025 forecast graphic from Digital TV Research shows.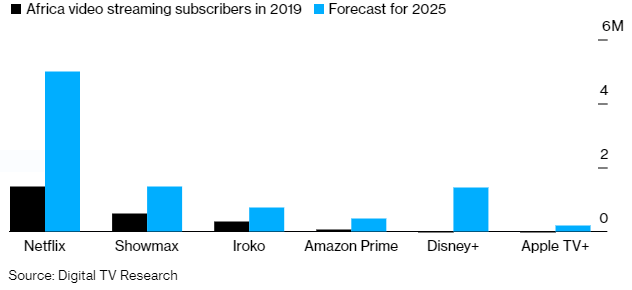 As Bloomberg explained, Netflix wants to,
channel the continent's best talent to develop slickly-made shows across every genre. This year it struck deals with well-funded producers like Nigeria's EbonyLife TV and Star Wars actor John Boyega's UpperRoom Productions.

The content blitz follows Netflix's success with "Queen Sono," a drama about a South African secret agent, and "Blood and Water," a Cape Town-set drama about a girl searching for her missing sister. It's now pushing into comedy, reality TV and shows for children and young adults, partly by licensing series or films from local distribution partners.
Netflix told Bloomberg,
We want to tell amazing stories tailored to different languages, different tastes, and different moods. We know how important it is to have a slate that offers diversity and variety.
---
Cherry-picking African author talent
---
Compare that with publishers outside the continent who mostly cherry-pick African author talent for its sales values everywhere except Africa.
And of course Netflix content produced in Africa by African talent will be accessible across the continent and around the world.
Meanwhile overseas publishers cling to anachronistic territorial restrictions as if their lives depend on it. As a resident in West Africa I'm reliant on access to my Amazon UK Kindle account to have any chance of reading most African authors published in the U and UK.
And sadly many Africa-based publishers are so focussed on the government-supported education sector that they too miss a marvellous opportunity to diversify their revenue streams and enrich the culture of the world.
But let me end this post on a bright note: It doesn't have to be this way.
Paris-based YouScribe is leading the charge to make books-on-demand available across the continent, and although so far only in select francophone markets it is already around the 500,000 subscriber mark.
But for YouScribe or any other competing service to make a serious impact on the continent it needs publishers to set aside analogue thinking about territorial restrictions and embrace the global reach digital offers.