Big Bad Wolf expands its reach from city-wide to country-wide with audience reach of 7 million in a precedent that could take future BBW events to new heights
---
Big Bad Wolf's fifth live event this year was also its last. Big Bad Wolf Jakarta, traditionally the biggest of the Big Bad Wolf roadshows, with typically 5.5 million books up for grabs, was cut short in March as the Covid-19 pandemic surged in Indonesia.
Earlier this year Big Bad Wolf had debuted in Phnom Penh, Cambodia, and revisited event in Myanmar, the Philippines and Malaysia, and was set to break records across the board until the pandemic tore up the publishing calendar, and with it Big Bad Wolf's ambitions.
With stock in situ in Indonesia Big Bad Wolf launched an online sale across the country as it became clear the pandemic would not let up any time soon, using the SE Asia online sales platform Tokopedia.
A second Indonesia sale using Tokopedia is scheduled for August 7-17.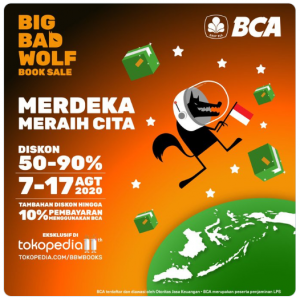 But come October we will see Big Bad Wolf take its online experiment to a new level, as it launches a fully fledged stand-alone online book sale across Sri Lanka.
The duration may be shorter – just 5 days, from October 1-4 – but the catalogue will be five times bigger than the regular in-person events in Sri Lanka that have seen Big Bad Wolf ship 1.5 million English-language books to Colombo.
From the press release:
Sri Lankans are getting familiar to the "new normal" following the pandemic and E-commerce has risen to the occasion. Online shopping with doorstep delivery is commonly popular throughout the country. These shifts in behavior and the market encouraged the Big Bad Wolf Book Sale to progress to an online version this year in order to continue its mission in allowing access to affordable books.

For the first time, the Online Sale will allow Sri Lankans to have access to a book inventory that is five times the number of books than the on-ground Book Sales of recent years in Colombo.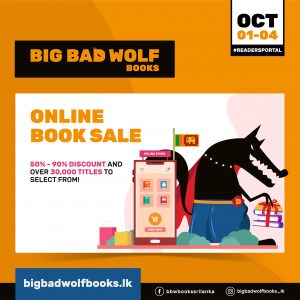 Big Bad Wolf co-founder Andrew Yap said:
Our mission to further spread the joy of reading and allow access to affordable English books to more people in Sri Lanka is becoming reality. A key element for this year's Sale is the fact that anyone in any part of the Island will have access to the Book Sale from the comfort of their own homes. The safety of our customers, staff are our utmost priority and we believe this first-time online experience would truly be an experience that will unite all book enthusiasts across the country.

This will be a whole new experience for all Sri Lankans as we are creating history by taking the Sale online. We hope that the Big Bad Wolf Online Book Sale will script a new era where online book sales become customary in Sri Lanka. Not only that, we expect that our Book Sale would attract more E-consumers to make a bold statement especially here in Sri Lanka.
In mind Big Bad Wolf's ambitions to deliver 1 billion books to the emerging markets over the next 5 years –
the shift to online sales (alongside in-person events once they become viable again) will help achieve this noble goal.
But of course while Big Bad Wolf uses social media to get its events noticed, it's a different matter when it comes to being able to buy something online and have it delivered.
Here Big Bad Wolf faces the twin challenges of some would-be buyers unable to make online payments and of those living where the postal delivery service we take for granted in the west may be than adequate to the task. It will be interesting to see how Yap and co-founder Jacqueline Ng find ways around these problems.
Regardless, the online Big Bad Wolf sales are a big step forward in connecting books and readers around the world.