Rakuten Kobo has been successfully streaming digital books through its Kobo Plus subscription service in the Netherlands and Belgium since February 2017, and the expectation has been that launches in France and Canada were on the way.
Today the Canada forecast became reality with "hundreds of thousands of titles" apparently available in the new Kobo Plus Canada service.
I say apparently because the link in the press release doesn't go anywhere at this time, but that may be fixed by the time you read this. I'd add the current link seems to be for a Kobo Plus France page, not yet live.
UPDATE: the Kobo Plus Canada page can be found here.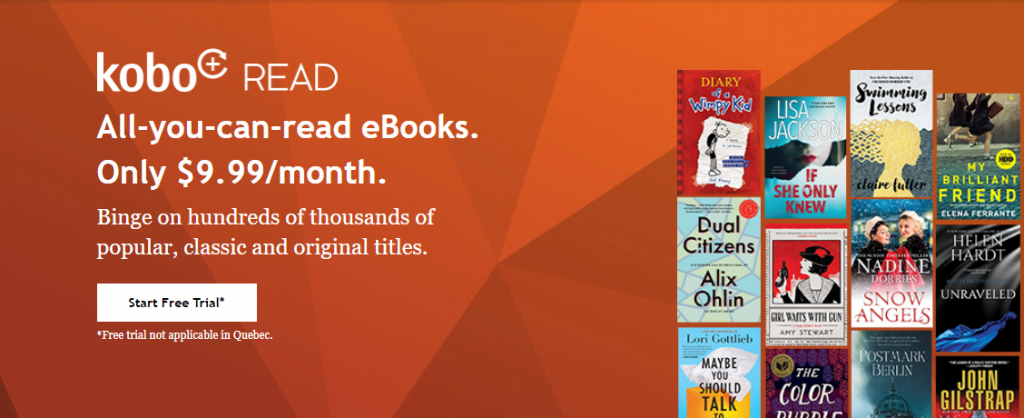 But anyway, Kobo opened its press release thus:
Leading digital reading retailer and publisher Rakuten Kobo announced today the Canadian launch of Kobo Plus, the all-you-can-read ebook subscription for $9.99 per month. Booklovers can now choose from hundreds of thousands of ebooks, including French-language titles as well as a variety of books in Spanish, Italian, German, Russian, Portuguese, Polish, Dutch, and more, to serve those communities in Canada as well.
Kobo reports that it has seen "unprecedented growth" in Canada with reading up 89% from 2019, and 101% on Sundays, and this new initiative will help Canadian readers consume even more, as Kobo CEO Michael Tamblyn explains:
Digital reading has been providing instant, on-demand comfort, education and entertainment for readers while also being an especially resilient source of sales for authors and publishers during this especially challenging time.

Kobo Plus makes it easy to read as much as you want, to dip into books you otherwise may not have ever taken a chance on, and to discover books you wouldn't see in your average bookstore. It provides risk-free endless reading for a low monthly price.
Arguing that "the time is right for subscriptions", the press release reveals that 60% of the Kobo Plus NL subscribers had never before purchased an a-la-carte ebook from Kobo, and that Kobo continues to experience,
double-digit year-over-year sales growth for a-la-carte ebooks alongside rapid subscription growth.

As people move toward this new way of consuming entertainment, Rakuten Kobo recognises books as the next frontier for subscriptions in Canada. Further, Kobo has seen demand for this service in global markets.
Just what that means is unclear. We know a Kobo Plus France launch is being considered (and see above note about the erroneous link in the press release for further confirmation), but more promising is that Kobo might be looking at Kobo Plus launching in some of its strong international markets outside Europe.
As well as a notional pan-European presence across 24 EU countries (although only France, Italy, Turkey and Netherlands are substantive), Kobo has localised stores in the US and Canada, the UK, Australia and New Zealand, Mexico and Brazil, South Africa and India, Japan, Hong Kong, Taiwan, Singapore, Malaysia, Thailand and the Philippines, although the degree of localisation varies enormously from one to another.
The launch in Canada puts Kobo Plus head to head with Amazon's Kindle Unlimited, but realistically the two will travel parallel paths and are unlikely to be meaningful competitors.
The big question unanswered is how much engagement Kobo has managed to source from mainstream publishers in Canada and beyond, and the "hundreds of thousands" of titles suggests not a lot.
The majority of the Kobo Plus catalogue in English is likely to be made up of self-published works, as indie authors routinely offer full world rights. Unlike Kindle Unlimited, Kobo Plus does not demand exclusivity, so any indies using Kobo can have their titles available in the streaming arm. By the same token Amazon does demand exclusivity for indies using KU, so there can be no cross-over between the two rival services.
Kobo has long said that indie titles make up more than a quarter of Kobo's sales, so this could be a useful next step for indies selling on Kobo.
Globally Kobo claims to reach an audience of 38 million.