Even without the digital bounce the global pandemic has induced, Storytel was expected to perform well in Q1, and the confirmed numbers don't disappoint.
Storytel averaged 785,800 subscribers in the Nordics (3,800 over forecast), with revenues of SEK 350 million ($35 million).
The non-Nordics territories saw subscribers rise by 43,200 to 369,000, bringing in SEK 79 million ($80 million). At which point a reminder many of the non-Nordic markets are very recent additions to the Storytel global portfolio so will not yet have had time to full engage.
That takes Storytel's subscriber base globally (20 markets) to 1,514,000, with Q1 streaming revenue hitting 429 million ($43 million).
The Q1 numbers comes shortly after Storytel published its full annual report for 2019.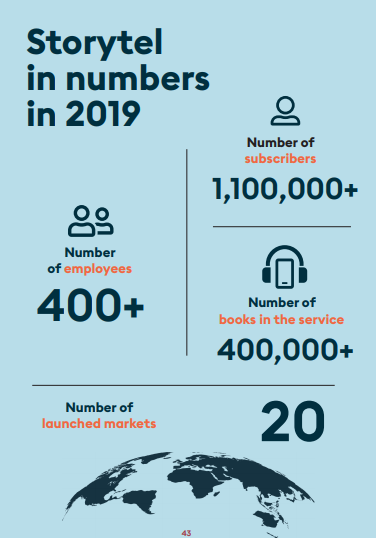 In the report Storytel CEO Jonas Tellander reminds us he is targeting 1.5 million subscribers by end 2020, amounting to a 36% growth rate, and to take annual revenue to SEK 2 billion ($200 million) with 1-3 new market launches and bringing 2-4 more existing markets into profit.
Tellander reports that Netherlands joined the profitable markets list in January ad that Russia, Poland and Finland are expected to move into the black later this year.
With the Covid-19 virus Impacting people and economies around the world, encouraging people to turn to digital for entertainment, 2020 promises give an unexpected additional boost to Storytel's end of year numbers.
But Tellander will be as aware as any that the inevitable post-coronavirus period of economic downturn may work against the company, as consumers weigh up their many subscription commitments, so Storytel's forecasts could yet face headwinds.