It's happened. As of June 30th 2019, Africa, at just 39.5% internet penetration, now has more than half a billion people online.
Nigeria, which leapfrogged Russia into 7th place in the global internet users stakes in December 2018, just edged ahead of Japan in the half year count.
African Publishing – The $5 Billion Digital Opportunity as Nigeria becomes 7th largest country by online population

One other African nation, Egypt, makes the Top Twenty Internet Countries list –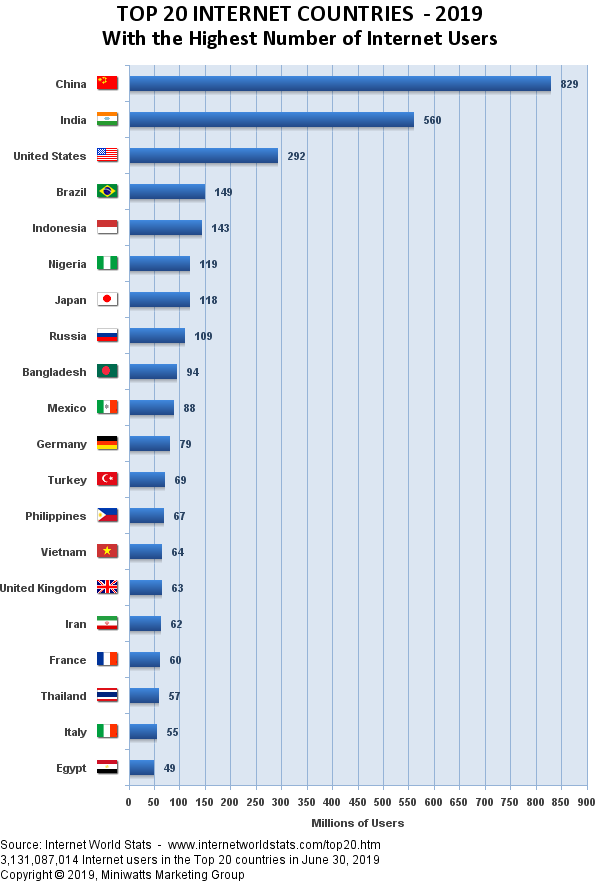 but it is Nigeria we should be focussing on. It won't be this year, but in the not too distant future we can expect to see Nigeria bump Indonesia for fifth place and Brazil's position at #4 must now be considered at risk as Nigerians continue to embrace the digital opportunity.
Incredibly, publishers both on the continent and beyond are still busily looking the other way as this huge potential market becomes ever more accessible.
A half billion people online, pretty much all using smartphones that could be holding ebooks and audiobooks.
Yet while there are notable and honourable exceptions, most publishers outside the continent are not giving this huge market opportunity a second thought, while African publishers themselves are, again with honourable exceptions, treating the internet and smartphones as the enemy of books and reading. Clinging on to a bygone era publishing model when ink and paper was the only option, instead of embracing a hybrid print and digital future.
That's why TNPS, in partnership with parent company StreetLib, last month launched the bi-weekly newsletter Publish Africa – the digital advantage.



The target audience is the African publishing sector and the aim is not to rehash what's happening in African publishing today, exciting as that is, but to offer perspective on how African publishing can be transformed in the coming decade, showing by example how digital is impacting other countries and continents with far fewer people online than Africa has.
The next edition, #3, of Publish Africa – the digital advantage will be landing in in-boxes tomorrow, Thursday July 25.
You can subscribe here, and yes it's free.
Check out our inaugural newsletter here, and issue # 2 here.