We're weeks away from the Emirate of Sharjah, part of the United Arab Emirates, assuming the title of UNESCO Word Book Capital, and it's likely there's never been a more fitting choice.
Not because this is the first Arab nation – in fact Egypt and Lebanon have both carried the title in past years. Nor because it has earned the honour by its fight for books against adverse conditions. In 2017 the francophone African nation of Guinea carried the title.
But Sharjah brings a unique blend of book and publishing history and engagement to the table, not just as the national level, but also in the global arena.
More on that shortly.
But let's begin with the legend. All nations have them, of course, but for Sharjah it's almost as if books are in its DNA.
I mentioned the legend back in December in a TNPS post marking the Sharjah Publishing City Free Zone's first anniversary and I'll briefly defer to that post.
A mortgaged golden dagger becomes a hub of the global books industry. The UAE's Sharjah Publishing City marks its first year
The Sharjah Publoshing City Free Zone, the world's first and so far only such facility, offers publishing industry operators unique benefits, not least zero taxes and 100% repatriation of revenue, at the epicenter of the globe with all the advantages of having the MENA, African and Asian region's marketplace to hand.
But wait. A global publishing hub in the deserts of the Middle East?
It's a legend in the making. An Arab prince is bequeathed a golden dagger – a priceless family heirloom to be handed down from generation to generation. And at twelve years old the boy mortgages the golden dagger to buy books.
The boy, now a grown man, is better known as His Highness Sheikh Dr. Sultan Bin Muhammad Al Qasimi, the current ruler of the emirate of Sharjah.
From a golden dagger to one of the planet's beacons of literature, home to one of the world's largest book fairs, and now home to the Sharjah Publishing City Free Zone.
If there's not already an animated cartoon version of the young prince and his books, there should be.
As well as the Publishing City and the international book fair, Sharjah is also home to one of the largest children's reading festivals, and from April will be the UNESCO World Book Capital.
This week UAE Today runs a story on some of Sharjah's global publishing achievements, looking at the work of the Sharjah Book Authority (SBA), founded as recently as 2014.
Through its engagement at more than 40 major book fairs and cultural events over the year, the SBA is seeking to promote the emirate's cultural and intellectual programmes and initiatives such as the Sharjah International Book Fair and Sharjah Children's Reading Festival as well as other coveted cultural awards … the emirate of Sharjah has become a centre of gravity for many Arab and international cultural programmes, projects and initiatives.
…The emirate has been chosen as a guest of honour in several global events. Sharjah has been selected as Special Guest City at the 38th edition of the Paris International Book Fair 2018 (Salon Livre Paris) and Guests of Honour in the 25th Sao Paulo Book Fair 2018; the 27th New Delhi World Book Fair 2019; and the Turin International Book Fair (May 2019).
SBA participated in the 48th edition of the London Book Fair, LBF, from 12th to 14th March, 2019, where it showcased Sharjah's cultural project and key initiatives aimed at enhancing the local publishing industry, and its efforts to celebrate Emirati literature at international book fairs.
This year, with the World Book Capital celebrations starting April 23 and lasting all year, we should see a spectacular Sharjah Children's Reading Festival and International Book Fair 2019, which on past performance will bring in crowds of at least 2.5 million between them.
Unsurprisingly the Sharjah World Book Capital (SWBC) has an impressive website. Do check it out.
This is what excites me: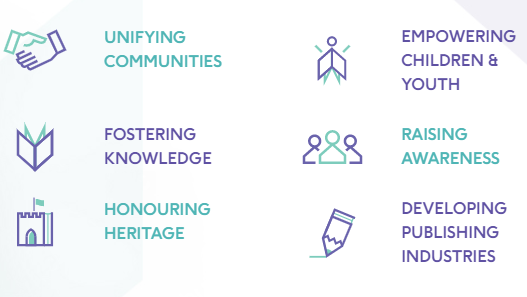 EMPOWERING CHILDREN & YOUTHChildren are our future. They can build our nations and break down cultural barriers through understanding. That is why we have prepared a myriad of programs specially design for children and the youth to encourage a culture of reading and a thirst for knowledge. We aim to empower them so that they are able to achieve their own — and their nation's — aspirations and goals.DEVELOPING PUBLISHING INDUSTRIESBooks are magical. They not only transform minds, but they develop nations both socially and economically. There is an entire ecosystem that works in sync to produce a book — from researchers and writers, to publishers and distributors. We have designed an array of conferences, workshops, and activities that will empower each segment; our goal is to strengthen and develop industries, create new jobs, develop our economy and make Sharjah a publication city that can compete in the international market.
Read more about the SWBC display at the London Book Fair in Gulf News where it is reported there is a new publisher in town. The Al Qasimi Publications Publishing House has been founded by royal decree of the Supreme Ruler of Sharjah, His Highness Dr Shaikh Sultan Bin Mohammad Al Qasimi, and will be run as a not-for-profit organisation, with any surplus going to worthy causes.
Follow the Sharjah World Book Capital on twitter: @SharjahWBC