The month-long Amar Ekushey Boi Mela, aka the Dhaka Book Fair, has wound up for another year, and it's improbable any records have been broken as bad weather and bad luck worked in tandem to undermine the event.
It got so bad that the event was extended an extra two days, concluding Saturday March 2 instead of the traditional close on the last day of February. But it's still looks unlikely the sustained growth in sales and visitors over recent years will have been maintained this year. Although reporting has been haphazard and sending mixed messages.
The last few days seemed just to ram home the uncertainty as almost simultaneously reports rolled in of sales picking up even as visitors stayed away because of the water-logged venue and sellers desperately tried to rescue rain-damaged books
Said the Dhaka Tribune's Mehedi Hasan,
The fair drew a vast number of visitors with only three days left for the end of the month-long extravaganza that showcases books on Bangla literature for booklovers of all ages
On the 25th day of the month-long Amar Ekushey Book Fair, the stall attendants spent busy time dealing with the visitors as big smiles flashed on the faces of the publishers with the fair witnessing a record sale yesterday.
The visitors of all ages flocked to different stalls and pavilions to buy books of their favorite authors. Many of them were seen returning home turning homes with bags full of books. returning homes with bags full of books.
On the other hand we have NewAge Bangladesh reporting from mid-week,
Heavy showers on Wednesday held back last-minute rush of booklovers to the Amar Ekushey Book Fair and also left stalls at the fair in a mess while some areas in Bangla Academy and at Suhrawardy Udyan were swamped.
Stall attendants were forced to shut their stalls as the rain continued unabated from noon till night, frustrating the last-minute sale publishers were looking forward to.
Representatives of a good number of stalls were found busy removing rainwater from the roofs of their stalls while water trickled inside some stalls damaging books, a number of stall representatives complained, blaming poor infrastructure provided by the fair organiser.
A number of publishers said that they had suffered huge losses as many of their books were damaged during the hailstorm and they have not much time left on their hands to overcome such losses as the curtain would fall on the fair in a day.
For comparison, this was the headline here at TNPS exactly one year ago today:
Bangladesh Amar Ekushey Boi Mela sells $9.6 million of books in 28 day event

That post carried this infographic from UNB.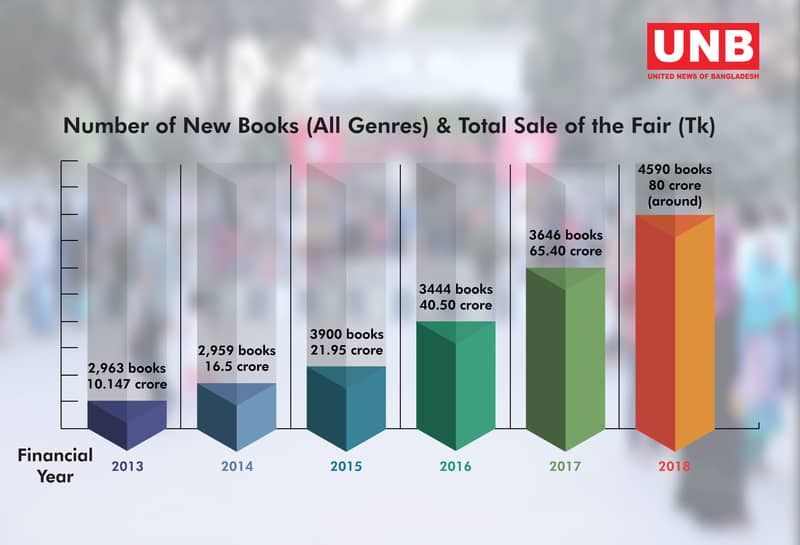 Little hope of seeing that upward curve continue this year.
But let's take solace from the fact that any decline this year can safely be blamed on factors other than declining interest in books, and publishers can pin their hopes on a better event in 2020.