2019 is definitely shaping up to be the year digital subscription comes of age.
Hard on the heels of Scribd announcing its one millionth subscriber –

, and with Storytel on target to clear a million subscribers by end 2019 –
Storytel Q4 report: Subscribers up 44% Y/Y. Streaming sales up 38%. Targets 1.1 million subscribers by end 2019

comes news that e-textbook subscription service Cengage Unlimited has hit the 1 million mark in just seven short months.
In a press release Cengage CEO Michael E. Hansen said,
This significant milestone underscores how an incumbent can serve as a catalyst for an industry in need of change. One million subscriptions sold in only seven months shows that students are willing to embrace new solutions that offer value. With Cengage Unlimited, we are well on the path to removing barriers that have caused students to limit their course load, change majors, skip meals or forgo buying materials because they cannot afford them.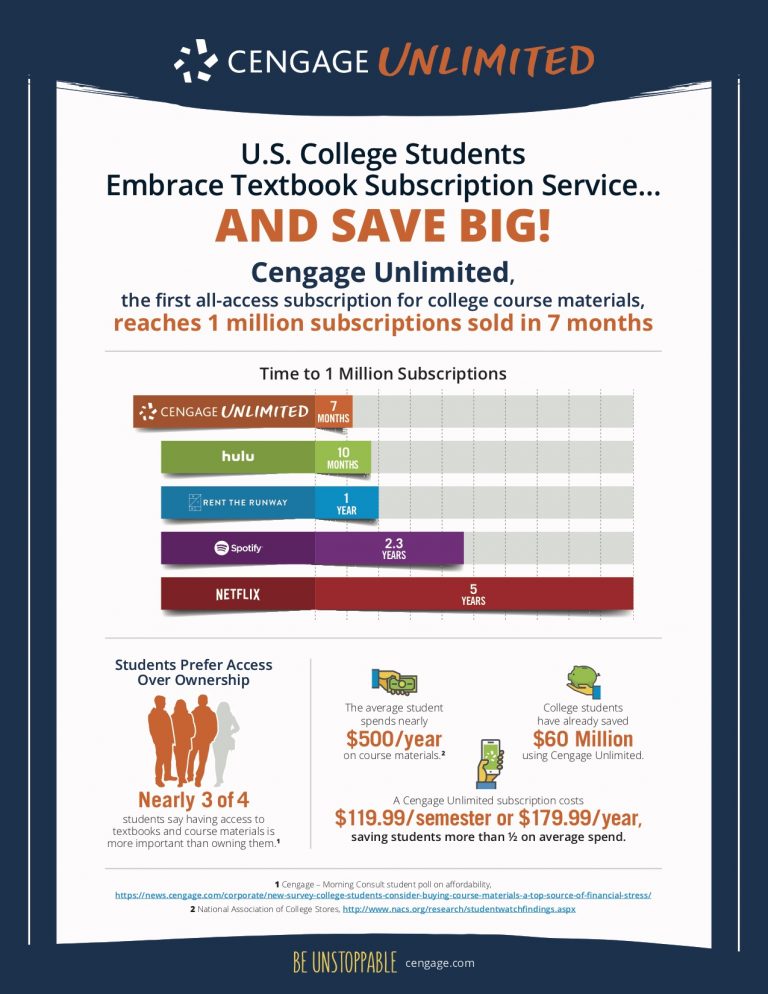 Cengage Unlimited claims to be the industry's first-of-its-kind subscription for college textbooks and course materials, offering "complete access to more than 22,000 products, including eBooks, online homework access codes and study guides.
From the press release:
In addition to unlimited access to textbooks and course materials, a Cengage Unlimited subscription includes free access to offerings from Kaplan, Quizlet and Chegg, with more to come soon. Students pay one price for the subscription—no matter how many materials they use. Subscriptions cost $119.99 a semester ($179.99 a year) and are available directly from Cengage, online or at campus and off-campus bookstores. Print rentals are available for $7.99 with free shipping.
Considering students spend, on average, about $500 annually (with some spending significantly more), the subscription can save students half or more of what they were paying previously. Students may use their financial aid to purchase a subscription, either through Cengage or through the bookstore.
Students using Cengage products can access a simple digital savings calculator to see if Cengage Unlimited is the right choice for them. To reveal their potential savings, students simply type in the ISBN for their products. And, an interactive Savings Map allows faculty, administrators and students to see which courses use Cengage at their institution. The map highlights more than 500 schools to date.