As with ebooks, so with audiobooks. While the big western digital book companies steer clear of the African continent bar a toe in the waters of South Africa, local talent is rising to fill the vacuum.
Kenya's eKitabu, Nigeria's Publiseer and OkadaBooks… And in Ghana, AkooBooks Audio, which this week won a High Potential Innovation Award in Morocco where the 4th edition of the African Entrepreneurship Award Program was held in Casablanca.
Wait, what?
Yeah, it's all kind of hard to get our heads around for us westerners conditioned to believe Africa is some publishing and digital backwater where any books, let alone ebooks and audiobooks, have no serious role to play.
Hmmm, that will be the same Casablanca that earlier this year saw over half a million people turn out for Morocco's International Book Fair.
Casablanca International Book Fair update:  over a half million visitors in 2018

That will be Morocco with 22 million people online – more than Australia, and twice as many as Belgium or Sweden, but no Kindle store, no Apple Books store, no Google Play Books store…
Nigeria? 98 million people online – more than any country in Europe except Russia. Four times as many internet users as Australia. Twice as many people online as Spain. And no Kindle, Apple or Google Play store.
Kenya? With 43 million internet users it has more people online than Spain or Canada. Twice as many as Australia. And not a Kindle, Apple or Google Play ebook store to be seen.
Kenya's Swahili Literary Festival 2019 set for Mombasa in March, but don't get your hopes up to be selling Swahili ebooks on Amazon

Ghana? Well, Ghana can't compete with those numbers, but even with Ghana we are talking an internet user base of 10 million – that's more people online in Ghana than in Sweden or Portugal.
Ebook stores? Do you really need to ask?
But Ghana has big ambitions for its publishing sector, seeing literature as the country's next cocoa, gold and oil rush.
Big ambitions indeed. But here at TNPS we have mixed feelings about that.
Because at the Accra book fair many in Ghanaian publishing were mired in pessimism –
Ghana International Book Fair mired by analogue pessimism when digital opportunities abound

evidently not seeing the digital opportunities that could make Ghana's ambitions to become the publishing hub of sub-Saharan Africa a reality.

But there is hope on the horizon, embodied by Ama Dadson and AkooBooks Audio.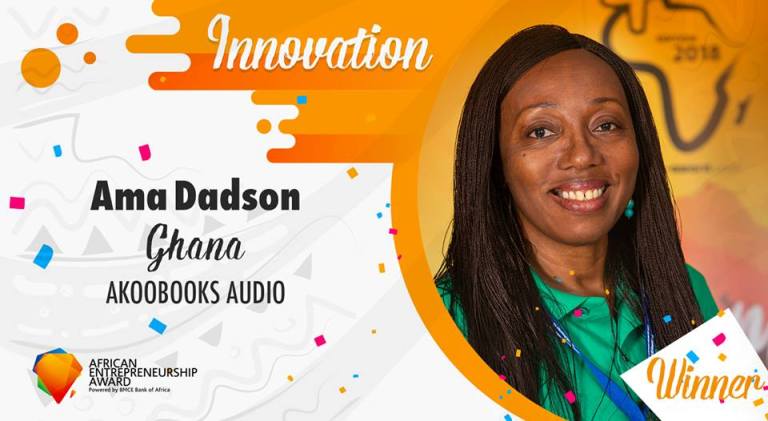 Said Dadson,
I am so grateful to the AEA Presidential Jury for their support and belief in our businesses. The untapped potential of digital distribution on mobile devices, to provide access to all the African books needed by young Africans for their growth and inspiration is enormous. Audiobooks can be listened to anytime, anywhere.
In a press release to mark the occasion Dadson explained AkooBooks Audio seeks to confront the African challenges of
abysmally low levels of literacy and poor distribution of content.
The two of course go hand in hand, and is precisely why digital is such a powerful weapon in the armoury of African publishers, if only they are willing to grasp this nettle.
Dadson understands that, and now plans to become,
the largest employer of voice talent in Africa. Indigenous African literature read and recorded by authentic African readers.
Other Ghanaian publishers? Not so much.
What follows is from TNPS in September as the Accra book fair concluded.
As the build up to this year's Ghana International Book Fair got underway last month is seemed optimism was the prevailing mood, with talk of how Accra might become a regional hub for Africa's nascent publishing industry.
The 2018 theme was "Revitalising the Book Chain for National and International Cooperation."
But reality took hold as the event unfolded, as Nana Gyan Apenteng, Chairman of the National Media Commission and President of Ghana Writers Association, addressed the problem of a declining interest in reading in the country.
And the blame for that he put squarely at the feet of successive Ghanaian governments.
Reading has fallen way down the priority list of governments in the last few decades and we find nothing in the present to encourage us to be optimistic.

Of course, we would all claim that we are reading on our phones but that is largely untrue…unless reading WhatsApp messages can be described as reading.

We are a formidable force. We need to come together and be a lobby for change. We cannot fold our arms and expect to get our share of the pie… We have no choice but to be up and doing…

It does not matter whose money is involved but from where I stand, and seeing what I see travelling up and down this country, I would think that it would be better to invest any such money in building libraries and book stocks across the country.
Admirable sentiments, yet perhaps there is a mismatch in there, when Apenteng dismisses reading on phones as all about WhatsApp messages.
Libraries and printed books are great, and if they can be afforded, then all the better. But to dismiss the possibilities digital offers Ghanaian publishers and readers as nothing more than text messages suggests Apenteng isn't following the global publishing scene, where ebooks are gathering momentum as the preferred and most convenient and affordable reading option for consumers.
If Ghanaians really are just using their phones to read text messages then maybe Ghanaian publishers need to take a look in the mirror.
If Ghanaian books are not being digitised and made available then it's little surprise there is no interest.
In fairness, the effective absence of the Big 5 western ebook retailers doesn't help. Where Ghanaians can access ebooks easily, as through Kobo for example, there is still the problem that few if any Ghanaian authors are available, big western brand authors are likely territorially restricted and unavailable, and Kobo's payment options are not ideally suited to African consumers.
But there are ways and means. Digital presents a huge opportunity to African publishers, and in countries like South Africa and Kenya digital is being taken seriously.
Ghana may only be at 34% internet penetration, but let's put that in perspective.
That 34% is 10 million Ghanaians online that have the device and the connection to potentially be downloading and reading ebooks and listening to audiobooks.
The future success of Ghana's publishing lies in embracing the best of both worlds, not clinging to the past and an analogue system that has already proven its limitations.
Ama Dadson is showing the way forward, by partnering with Libro.FM to distribute audiobooks produced in Africa by Africans.,
I'll be interviewing Ama shortly for further insights into AkooBooks Audio and her plans for the future.
Here to end this post by noting Ama first became interested in audiobooks when her mother, now 86, began to lose her sight, and the doting daughter looked to technology to deal with the problem. And then she realised she could simultaneously address an even bigger problem.
I want to create a meaningful technology company that solves one of the biggest problems of our continent — illiteracy — and also to demonstrate that women can lead in a traditionally male dominated industry!
Ama Dadson, we're behind you all the way!