So many stories slide across my desk that I've commented on briefly elsewhere, usually with the self-publishing audience in mind, but that haven't warranted full TNPS posts.
Here's a selection.
+ + +
If its September it must be time for the Pakistan book fair season.
It kicks off with Paramount's 30th annual ten-day book fair, taking place in Lahore, Karachi, Peshawar.

A small event by Pakistan standards – the Lahore Book Fair pulls in 500,000 and the Karachi Book Fair 600,000 – and just one of countless book events across Pakistan that will pass unnoticed in the wider world, but might make you think twice about ignoring this vibrant book market.
The global book market. It's so much bigger than you think.
+ + +
From Publishers Lunch this month:
Harlan Cobden signed a multi-year exclusive overall deal with Netflix, with plans to develop 14 existing titles and future projects, including his upcoming novel RUN AWAY. Coben will serve as executive producer on the projects. He currently already has two series on Netflix, Safe and No Second Chance. Coben said, "I loved working with the Netflix team on Safe, and seeing the fantastic audience response around the world. I'm thrilled to continue our relationship to create more original films and series with them on a global scale.
A reminder that, far from being the grim reaper of the book industry, Netflix is one of publishing's biggest promoters.
+ + +
Staying with that theme, from Literary Hub:
23 Literary Movies and Shows You Should Be Watching This Fall
Yep, Netflix and video streaming is destroying the book industry. Not.
Just watch these books fly up the charts as the TV series and films go out.
+ + +
September is World Kid Literature Month (#WorldKidLit). No, I've no idea who dreams up all this stuff up, but as authors and publishers we'd be crazy not to get involved, or at the very least use the opportunity to find out more about the global book markets.
Over at ArabLit this month there's an interview with the acclaimed Egyptian children's author Ahmed Salah al-Mahdi discussing the challenges and opportunities of the Arab language market.
If you're not taking the Arab market seriously, maybe it's time to think again
https://thenewpublishingstandard.com/amazon-preparing-kindle-arabia-launch-sharjah-int-book-fair-later-year
+ + +
Staying with the Arab theme, this via twitter.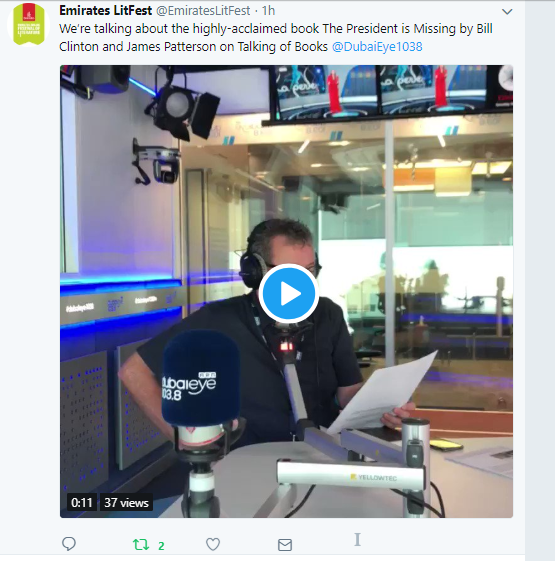 One more reminder that the global book market is just that. Global.
Follow the Emirates LitFest on Facebook: Emirates Airline Festival of Literature
Follow the Emirates LiFest on twitter; @EmiratesLitFest
Follow TNPS on twitter for daily updates on the global book scene: @thenewpubstd
+ + +
79% merchants tapping social media platforms to access large consumer base in India.
When it comes to selling books in the global markets like India I constantly see indie authors complaining they aren't seeing results.
"I don't get it," they cry. "I firmly believe books don't sell unless they are marketed 24/7, so I spend all day on Facebook and twitter promoting my books to America and paying Amazon to advertise my books in the US, and all I get is sales in America! This going global thing is a waste of time."
Yeah, it's a funny old world.
Meanwhile in India 79% of merchants are using social media and pulling in the sales.
"The most used social networks for online commerce are Facebook (89%), WhatsApp (43%) and Instagram(41%)," says the tagged report.
It's not about books, of course, but given ebooks, unlike cosmetics, can be downloaded, it should be doubly easy to sell ebooks in India.
But…
Yeah, there's always a but…
But, directing all your promotion at the USA is not going to help readers in India discover your books.
Yes, it's nice that there are 312 million people online in the USA. But that market is at 95.6% penetration. It isn't going to get much bigger.
In India internet penetration is still at a paltry 34.1%. Hardly worth bothering with, right?
But that 34.1% is 462 million people. That's 150 million *more* than the USA. And it is growing at a phenomenal rate.
Do they use Facebook much in India?
Well, the USA has 240 million Facebook users. That's why we spend so much time on Facebook.
India? Try 251 million. And don't forget that's just 34.1%.
But… Yeah, another but…
If you want to connect with readers in India on Facebook you'll need to engage with India on Facebook.
Start by using the Facebook search bar at top left of the page and try keywords like India writers, India authors, etc, and find pages and join groups that are relevant to your genres, just like you do at home.
Use an alerts system like Talkwalker (much better than Google Alerts) to get emails about Indian writers and readers groups, blogs, etc.
It's not hard to build a following in another country, but we have to understand that by default our Facebook, twitter and other social media accounts give priority to notifications from our own country.
Step outside that box and the opportunities open up.
The global markets. They won't come to you. You need to go to them.
+ + +
If you've noticed a sharp decline in the effectiveness of your AMS ads recently, you're not alone. An Amazon cash grab may be at the bottom of it.
That was John Doppler of the self-publishing body ALLi.
I've never used Zon Ads so can't offer any personal insights, but I'm sure many authors and smaller publishers here will have, and may find this of interest.
+ + +
This may not be the biggest bookstore on the planet, but it's a pivotal one for readers wanting a good selection of books.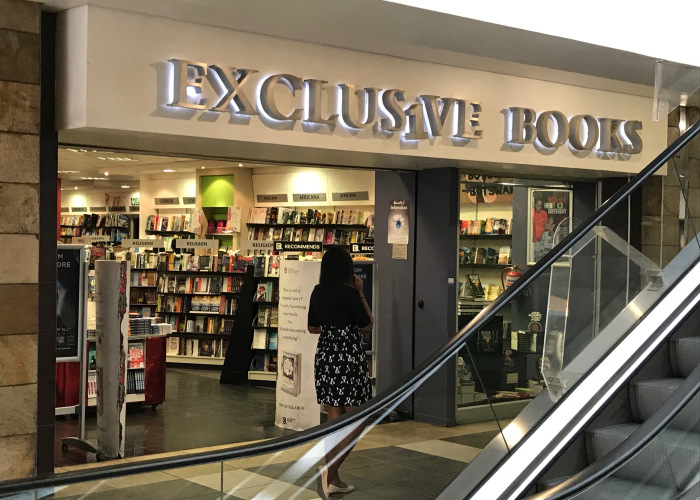 Sadly it closed this week. The good news it's just a relocation issue, and a new store will be opening not far away.
It's in the Riverwalk Mall. But which country?
If you look very closely you'll see the store brand sign says not Exclusive, but Exclus1ve.
Regulars here may remember that Exclus1ives is the brand of a South African bookstore chain.
But this store is not in South Africa. It's in Gaborone, the capital of Botswana.
That's the same Botswana where the Gaborone Book Festival has just finished..
The global book market. It's always so much bigger than you think.