The Big Bad Wolf debuted in the Philippines last month, taking 2 million books to the World Trade Centre in Pasay City, Manila for a ten day non-stop (literally, 24/7) book sale that had Filipinos queuing for two hours just to pay for the books they had selected.
As one Filipino booklover reminisced in the Inquirer last month,
I can remember a time when being a bookworm was much less fashionable, and more expensive. Powerbooks and Fully Booked weren't yet the giants they are and I had to hoard my allowance to get my dweeby sci-fi and fantasy books ordered online for three times their original price.
It's a stark contrast to how reading is encouraged, even fashionable, these days. Book-centric events are now an actual thing, as those of us who tried and failed to get into the 2017 Manila International Book Fair (MIBF) can attest to—the line on the weekend circled the building five times. The more upscale bookstores hold events and sales for their patrons a few times a year. Last year there was the seventh (seventh!) Filipino ReaderCon where writers, book lovers and bloggers gathered around their love of, and advocacy for, reading. Where were they when I was a preteen who couldn't find Terry Pratchett on the shelves of National Bookstore?
It might be annoying to stand in line at events like the MIBF and big book sales, and sometimes we might long for the days when the energy in book events was quiet and cozy rather than frantic and competitive, but why complain? It's a good symptom that the lines are there in the first place.
Now we are barely ten days away from the second Big Bad Wolf event of 2018, and this time it's in the Indonesian capital Jakarta.
Being the debut Philippines event the Big Bad Wolf provided a mere 2 million books for the first time outing.
But this will be the third Indonesian Big Bad Wolf event and, based on the success of the previous outings, Big Bad Wolf is providing no less than 5.5 million books for the Indonesia sale this year.
That's a full million more than Big Bad Wolf delivered for the Malaysia sale last December.
Big Bad Wolf Indonesia will begin on March 29 and run non-stop, 24 hours a day, through to April 9.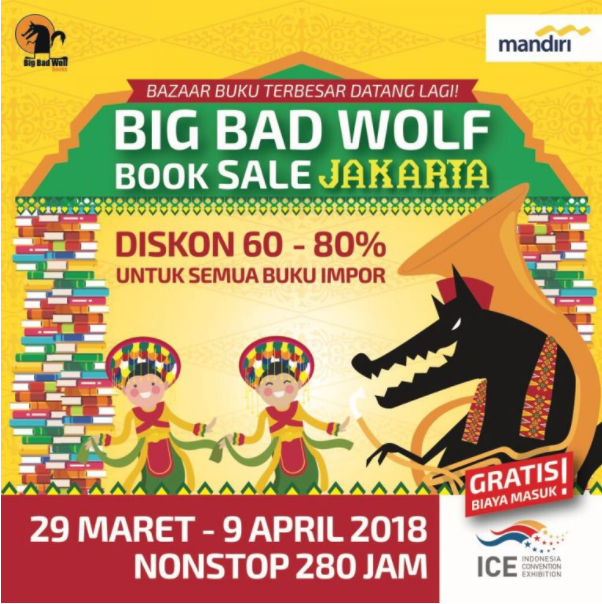 This year Big Bad Wolf has sourced more local language content and more Mandarin books to squeeze in alongside the tons (literally) of English-language books that will be available.
As previously reported here at TNPS, this year Big Bad Wolf is planning to hit ten countries. As well as the Philippines, Indonesia, Sri Lanka, Thailand, and home ground Malaysia, the Big Bad Wolf event is scheduled for Taiwan, Dubai, Bangladesh, South Korea and one other country yet to be announced.
World's biggest book sale heading to Bangladesh, Dubai, Korea and Taiwan this year

My guess is it will be either Singapore, Vietnam or India.(UPDATE – as yet unconfirmed, but it looks like the final option will be Iran!).
To date the Big Bad Wolf events have already sold over thirty million books, but with the extra events this year and the growing popularity of the established events it's quite possible that total could be doubled this year.
Needles to say The New Publishing Standard will be bring you the latest on the Big Bad Wolf events as they roll out, as part of our mission to track the Global New Renaissance as it happens, day by day.
For past TNPS coverage of the Philippines Big Bad Wolf event:
Shopping at Barnes & Noble was never like this. Bring comfy clothes, a suitcase, a friend and lots of stamina for the world's biggest book sale

And for coverage of the December Malaysia Big Bad Wolf event:
Ten things you can relate to at the world's biggest book sale – 4.5 million books at great discounts

The Big Bad Wolf home site is here, with a drop down menu for the first five BBW countries.
The Indonesia Big Bad Wolf event will coincide with the Bangkok International Book Fair in Thailand, which regularly attracts 2 million visitors.
As per this example of past TNPS coverage of the region, SE Asia is one of the most exciting prospects for publishing as we countdown this decade.