The president of the Saudi Publishers Association, Ahmed Al Hamdan, this week valued the Saudi Arabian publishing industry at 5 billion SAR ($1.3 billion), but just what that valuation entails remains unclear.
In an exclusive interview with the Saudi business daily Al Eqtisadiah (The Economy), Al Hamdan said the Kingdom of Saudi Arabia
"ranked #1 in the publishing business in the Middle East, with investments in the local sector valued at over ASR 5 billion annually, comprising 400 publishing houses and 4000 personnel in printing, publishing, distribution and selling.
That of course tells us nothing about the size of the Saudi book market, and from later paraphrasing of Al Hamdan it would appear product quality rules over quantity in Saudi Arabia.
The SPA president observed that some publishing houses produce quality books made with ink and papers imported from Japan, Russia and Germany, which explains the high cost of Saudi books in the Kingdom compared to other books in Egypt and Lebanon, which are made using local raw materials.
Al Hamdan reported the number of high-production-volume publishing houses that publish 500 titles is 100, while the rest publish between one and five books each yearn and that the biggest challenges to publishing in Saudi Arabia today are distribution difficulties and electronic piracy.
Al Hamdan's words come two weeks before Saudi Arabia's biggest book event, the Riyadh International Book Fair, opens on March 14, with the theme "Books — The Future of Transformation."
Transformation, of course, is a theme that pervades Saudi society right now as the country re-positions itself for a future where oil is no longer the primary source of revenue for the kingdom, and this presents opportunities for publishers both at home and abroad, as I explored here at TNPS in December.
Days before the Jeddah Book Fair, Saudi Arabia legalises cinemas after 35 years of draconian arts suppression
The second Saudi Comic Con is set for a three day event from March 22, in another example of how one of the world's most conservative states is changing.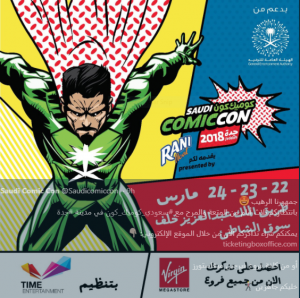 And in perhaps the least likely development in the publishing sector, the Riyadh fair will this year have a pavilion devoted to self-publishers.
The Saudi Gazette reports,
The fair has allocated a special pavilion for Saudi authors who published books without the support of any publishing houses, effectively giving state approval to self-publishing in the royal kingdom for the first time.
However, it's not clear how these self-publishers will be producing and distributing their self-published titles (only Google Play among the Big 5 western ebook retailers has a localized Saudi ebook store), but in any case Saudi authors will need to get their books approved by the government before release.
Might we see a Kindle Saudi Arabia store somewhere down the road?
As I explored here at TNPS in January, while Amazon is certainly eyeing up the lucrative Saudi market, and already has an e-commerce presence in the Middle East through its acquisition of Souq, there are few indications Amazon is looking to further the international reach of the Kindle project any time soon.
Amazon and Apple head for Saudi Arabia, but Kindle and iBooks stores unlikely
And rather than wait for the big western retailers to arrive Saudi Arabia has developed its own online book delivery sites and book-vending machines –
Saudi Arabia's online bookstore delivers Jeddah Book Fair orders to your door
and even its own audiobook operator –
All this just as Netflix launches its first original Arab content programme, and announces a major Arab content series, as per a dedicated post here at TNPS shortly.
The Arab Renaissance continues