Big Bad Wolf Bangkok opened yesterday (Aug 10) and this time it's three million English-language books laid out at one venue for eleven days of literally non-stop (24/7) book-buying, in a country notable for being somewhere "nobody reads."
This image is from Bangkok 2018 and typifies the Big Bad Wolf scene. New books, stacked high, priced low, and being loaded into supermarket carts by eager buyers.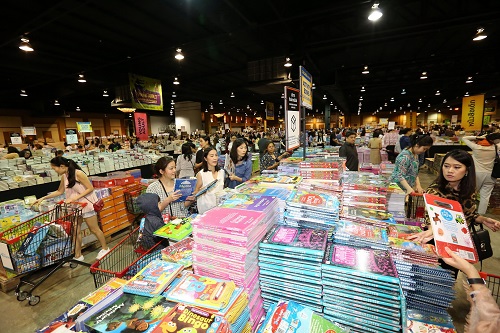 Founded by Andrew Yap and Jacqueline Ng in Malaysia back in 2009 Big Bad Wold initially specialised in selling remaindered print books from the US and UK markets, shipping them to Malaysia and then other countries in the region. Nowadays, while still focused on remaindered titles, Big Bad Wolf is also able to negotiate with publishers for extra print runs of popular titles.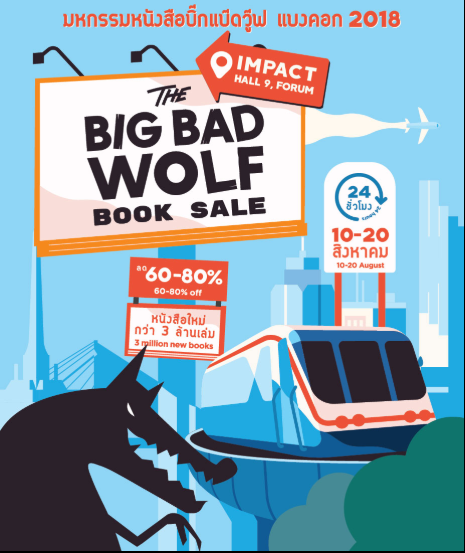 Big Bad Wolf currently operates multiple sales in five countries – Malaysia, Thailand, Indonesia, Sri Lanka and the Philippines, with debuts planned in South Korea, Dubai, Iran, Taiwan and Bangladesh.
Collectively Big Bad Wolf sales clear over 15 million books a year and attract over 3 million visitors. If the 2018 roll-out of new events goes to plan that number could be significantly higher for 2018.
Past TNPS coverage of Big Bad Wolf events include:
While publishers limit their reach with archaic C20 territorial rights, Big Bad Wolf shows us the global demand for English-language books
Big Bad Wolf announces second Philippines book sale just three months after debut, while excitement builds for Sri Lanka