The latest report from ebook and audiobook distributor Libranda indicates global Spanish-language ebook sales up 10% YOY, with sales in Spain up 8% YOY in 2018.
It is the ninth year in a row for rising digital sales in the Spanish-language markets, defined as Spain, Latin America and the USA.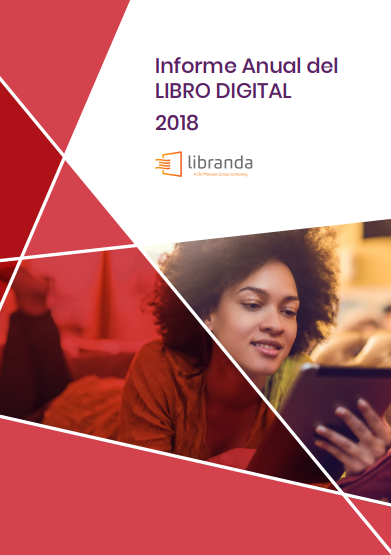 The figure for Spain, which includes some self-published titles, was 46.9 million euros, equating to 4.7% of the book market. However this number excludes the education and academic sectors, which would make the real valuation much higher.
For the Americas (LatAm and USA) 28.1 million euros is cited.
In volume terms, 62.6% of digital sales were in Spain, 26.6% in Mexico, 10.3% in USA, with Argentina and Colombia next in place.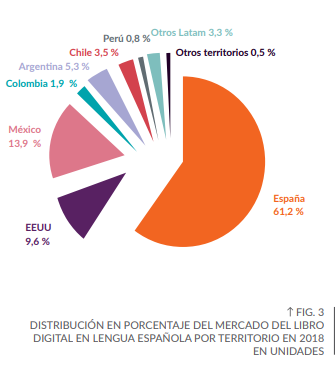 The US value might come as a surprise to some, given the USA has more Spanish-speakers than Spain, but it is only recently that Amazon gave Spanish-speakers in the US the option to view the US Amazon site in Spanish.
Spanish-language loans from digital libraries are up 15.6%.
Collectively the subscription services Nubico, Kindle Unlimited, 24Symbols, Scribd and Skoobe saw a rise of 12%.
Fiction led the way. In Spain 71.5% of downloads were fiction, 23.2% non-fiction.
The breakdown of genre is muddled by the fact that 33% were "contemporary fiction," an unhelpful catch-all category, but it would seem that romance out-led crime 15.3% to 11.4%.
The Libranda figures stem from the data from the Libranda catalogue, covering 72,000 Spanish-language titles (from a total of 260,000).
Libranda is widely regarded as the primary distributor of Spanish-language titles, but of course there are many other platforms delivering Spanish-language digital content to the markets.
This report can therefore be taken as indicative but conservative.
This summary via PublishNewsES.
Read the full report from Libranda here.