Tellander is under no illusion that he must, for the immediate future, work with the credit system Audiobooks.com has bought into and that US publishers are comfortable with. There will be no overnight Storytel US unlimited subscription platform.
---
In the first of two TNPS Special Reports this week, a look beyond the headline acquisition news to try grasp just how huge the Storytel and Spotify moves are for the global publishing industry. Today: Storytel.
If the Storytel acquisition of US-based Audiobooks.com caught us all off-guard, there's no major surprise here for Storytel observers. Acquisition was always Jonas Tellander's only viable route into the Big 5 English-language markets.
And as TNPS has noted many times – most recently at the US Audio Publishers Association Presentation in September – acquisition has long since become the preferred method for Storytel's expansion into new markets (Mofibo, Kitab Sawti, iCast, etc).
But the acquisition of Audiobooks.com from hedge-fund KKR is of a different order, not just in terms of the cash handed over ($135 million), but for the ramifications for the US and global audio industry.
First a quick reminder of what we know from the horse's mouth (Storytel press release and audiocast) and historic record.
Audiobooks.com was founded in 2011 and in 2017 became part of RBMedia, a venture that brought seven audio publishers under one roof. RB Media took its name from Recorded Book, but among the others were High Bridge, Tanto Media, Christian Audio and Audiobooks.com.
A year later RBMedia was bought by hedge fund manager KKR (which also acquired OverDrive from Rakuten Kobo).
The standard model with hedge fund buyouts is that the purchased company may be invested in a little than broken up and sold off, and in this instance AudioBooks.com became the subject of Sweden-based Storytel's interest. N.B. It's not clear which company approached which first, but a hint in the Storytel audiocast that accompanied the first press release suggests KKR put out word that audiobooks.com was up for grabs.
Per Storytel CEO Jonas Tellander:
We've been looking at the US and UK markets for some time and basically concluded that any entry points for us would be acquisitions to get a base and grow from and relationships with English-speaking publishers … So when this opportunity came up…
The initial press release and audiocast declined to put a price on the deal, but at some point during the newsday that position was reversed and an updated press release, termed a "correction", told us the value and the financial hoops.
The enterprise value for the acquisition amounts to USD 135 million on a cash and debt free basis and will be paid in cash. The acquisition will be financed through existing funds and a newly issued SEK 500 million bridge loan facility, with termination date in Q1 2023, with Swedbank AB (publ). The bridge loan has been taken as part of an amendment to the company's existing credit facility, where the company's revolving credit facility was extended for another three years and the available amount increased to SEK 850 million (from SEK 500 million).
$135 million to enter the US market running? Possibly the bargain of the century, compared with the $600 million Naver paid for Wattpad or the $950 million Kakao paid for Radish and Tapas.
Based in Canada, from where it will continue to operate under General Manager Ian Small, Audiobooks.com claims to be notionally available in 150 countries, although during the Storytel audiocast Tellander was a pains to stress that the US was the primary market for Audiobooks.com, with UK and Australia warranting a runner-up mention.
During said audiocast (which suffered disturbingly poor audio quality given the company behind it) Tellander said that decisions has not yet been made about branding ("branding remains to be explored"), leaving open the prospect Audiobooks.com might continue under that name in 2022 (the deal is expected to be formally closed by the end of this year), much as Storytel elected to keep the Mofibo brand, but my guess is we'll see Storytel USA materialise as a brand in the next several months.
With the deal Storytel acquires the Audiobooks.com catalogue of 300,000 titles, assuming no publishers pull out, which will be melded with the 700,000 titles in the Storytel catalogue.
Tellander, when questioned, was unable / unwilling to say how much overlap there might be, but did make the important point that the 700,000 Storytel titles involves a mix of audiobooks and ebooks, while the Audiobooks.com catalogue is all audiobook, plus "millions" of podcasts.
Meaning we're not much closer to knowing just how many audiobooks Storytel has, but Storytel has just entered the free podcasts market on a grand scale.
Thus far Tellander has been at best lukewarm towards podcasts, so what happens here will be interesting to see.
But given the consumer attraction podcasts have, bringing new audiences to Audiobooks.com that may then hand over hard cash for "real" audiobooks, it's improbable they will be ditched.
Rather, this may prove to be a watershed moment for Storytel if Tellander can read into the data potentially meaningful ROI on podcasts across the Storytel machine.
Worth bearing in mind that while Storytel has kept audiobook focussed, podcasts have moved from always-free to revenue-generating products, with many rivals out there now making money from podcasts, delivering meaningful royalties to content creators, attracting investors and expanding into markets beyond Storytel's reach.
So the TNPS forecast is that we'll see Storytel up its podcast game in the next couple of years, and one simple way it might do that is by taking those "millions" of free podcasts that come with the Audiobooks.com package and, creator-approval permitting, extending their reach across the (currently) 25 Storytel markets.
Expanding on this export option, it's extremely likely most of those 300,000 regular audiobook titles in the Audiobooks.com catalogue are just treading water, if available at all, outside the US and perhaps UK.
Subject to territorial rights agreements Tellander can dramatically increase the meaningful reach of the Audiobooks.com catalogue across its 25 dedicated markets (as opposed to the notional but essentially meaningless reach of 150 countries Audiobooks.com claims to be available in).
But let's be blunt, this is all just collateral bonus for Jonas, and the real deal here, which the Storytel CEO makes no bones about, is entry into the world's largest audiobook market, the USA.
In Tellander's own words, the acquisition of Audiobooks.com,
dramatically fast-forwards Storytel's entry into the US.
And of course by extension opens up the UK, Canada, Australia, New Zealand and all the myriad other English-language markets around the world.
There are three angles to consider here: First, what this means for Storytel. Second, what this means for the US market. And third what this means for the global market.
In each case the ramifications are of a seismic scale.
For Storytel entry into the world's single biggest audiobook market by revenue and volume is of course huge in its own right.
As and when Storytel US becomes the 26th Storytel market (or more likely 27th as Storytel Indonesia is supposedly going live this year) the distance between Storytel and its Nordic rivals BookBeat and Nextory grows exponentially.
And that's before we begin to think about Storytel UK, Storytel AU, etc. Again second-guessing Tellander, a Storytel UK operation in its own right is now likely, while a Storytel Oceania Hub based in Australia but embracing New Zealand and beyond is a logical extension, and would be in line with Storytel's approach in Latin America, in Asia-Pacific, and in the Middle East.
But let's stay with the USA as the priority for Tellander right now.
Storytel US goes head to head with Amazon-owned Audible, along with many smaller (in audiobook terms) players including Kobo, Google, Apple, Scribd, etc.
For Storytel the US market (as will the UK, AU, etc, when the time comes) presents a change in direction that Tellander is going to need time to digest.
Storytel has built its reputation and its dominant market position by offering what Tellander himself likes to call "a better customer experience". In plain English, Storytel offers the unlimited subscription model, beloved of consumers, welcomed by publishers in many markets, but anathema to most publishers in the English-language markets.
So much so that Penguin Random House famously pulled all its titles from unlimited subscription platforms in January 2020.
Audiobooks.com of course uses the standard credit subscription model – pay a set rate each month and get one book of any value "free". That's the same model that Audible uses in all its markets including the US.
But wait. Audible US, along with Audible UK and Audible AU, now all offer AudiblePlus too. AudiblePlus being an unlimited subscription option alongside the credit model.
In fact Audible has also, since that TNPS post, launched AudiblePlus in that "other" key English-language market India.
Okay, so in acquiring Audiobooks.com Tellander is under no illusion that he must, for the immediate future, work with the credit system Audiobooks.com has bought into and that US publishers are comfortable with.
That's a given. There will be no overnight Storytel US unlimited subscription platform, much as the American consumer might dream about it. US publishers would simply walk away.
As it is Tellander inherits not guaranteed content, but existing content in the Audiobooks.com catalogue that he will need to reassure US publishers is in safe hands under Storytel.
But there is nothing to stop Tellander, other than scaring the sh*t out of publishers, from at some point in the near future rolling out a two tier offering with the regular credit model retained with existing content, but an unlimited subscription option alongside with content from amenable publishers, from publishers outside the US with no irrational fears of cannibalisation, and of course Storytel Original content (see below).
At which point – pure conjecture – but one has to wonder if the AudiblePlus unlimited subscription option suddenly being rolled out in the UK and Australia are not pre-emptive moves by Amazon to lay claim to the market.
TNPS would go further and argue that the entry of Storytel into the US market simply accelerates the inexorable slide towards unlimited subscription we are already seeing.
As argued in relation to the AudiblePlus expansion, there is a simple game-plan in action here.
For the Audible consumer, while the range of content is limited, there will be enough to entice many to opt into the unlimited tier, which Americans of course are at ease doing, as they already happily use subscription to acquire movies and music.
For Audible – and for this argument read Storytel as and when it happens – the data from the unlimited option will help persuade reluctant publishers to try the unlimited option (we see the same approach with Kindle Unlimited where some Big 5 publishers and many smaller ones have been tempted to test titles).
As and when we have both Audible and Storytel proving the value of the unlimited option so more and more US publishers will come on board.
And then, per TNPS debate, will come the fateful day when Amazon, which has built its model on being consumer-centric, in stark contrast to mainstream publishing which for the longest time acted as almighty gatekeeper to what consumers could buy and read, will simply roll out the unlimited model across the board, leaving unwilling publishers nowhere to go and nothing to do but squeal about how unfair it is.
Publishers have of course long since painted themselves into this particular corner simply by, with audiobooks just as they did with ebooks before this, handing Amazon de facto control of the US (and UK) digital markets.
For publishers, the buy-out of Audiobooks.com by a serious and proven global audiobook player like Storytel ought to be a cause for cheering, but if the publishing trade journals coverage is anything to go by, most are seeing this as just another acquisition, just another change of hands at the top, that will make not one iota of difference to the way the market develops.
TNPS of course argues just the opposite – that this is a seismic shift in the US publishing landscape.
Not just because Storytel is now in a market of 312 million internet users, with a 170,000 subscriber base to kick-start its operations, but because this adds enormous value to Storytel's bottom line and its future potential.
Not just the obvious new revenue streams (US and later the other key English-language markets) but also the prospect of producing high-margin Original Content in English on a scale totally unjustifiable a week ago.
That's a point worth dwelling on.
The Storytel acquisition of Audiobooks.com did not happen overnight, and with hindsight it seems extremely likely the pending deal and entry into the US market was a key decider in the Conan Doyle Estate's decision to grant Storytel exclusive audiobook rights to create Original Content featuring Sherlock Holmes, with Anthony Horowitz in the author's chair.
One anticipates that the Storytel US launch in early 2022 will be market-headlined with new Sherlock Originals exclusively on the Storytel platform.
Okay, so let's here leave the ramifications for Storytel and the US market and take a step back to see the bigger global picture.
Per a Storytel infographic in the audiocast (captured below), Storytel valued the 2010 global audiobook market at (converted to USD) $682million.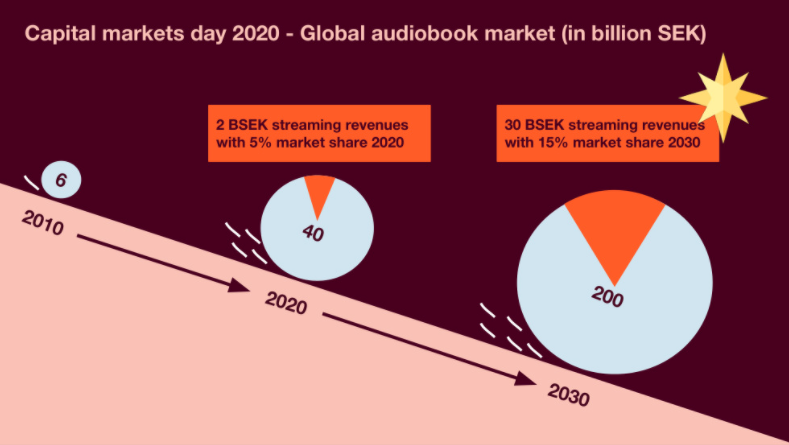 By 2020 the market value came in at $4.5 billion.
The Storytel forecast for 2030: $22.7bn. (NB Storytel has previously suggested $19.8 billion for 2030. It's not clear if the latest valuation is down to currency fluctuations or an upgrading of Storytel's 2030 forecast from earlier this year, in the light of the new acquisition.)
What TNPS can say here is that we regard this forecast to be extremely conservative. Per our presentation at the US Audio Publishers Association in September, we anticipated much more substantive growth in the global audio market by 2030, with audiobooks bringing in around $25 billion, and podcasts another $12 billion, so a total audio market valuation of $37 billion.
In the light of Storytel's latest move into the US, and the likelihood now of rapid expansion into the UK, Canada, New Zealand and other English-language markets, along with the elsewhere-global expansion the new revenues from these markets will make possible, that $25 billion global audiobook market valuation for 2030 is looking rather tame, and likewise the $37 billion projection for the overall audio market.
Too soon to think seriously about precisely revising those numbers, but there is no doubt we are seeing the start of a whole new level of global audiobook engagement that will take this format to new highs barely imaginable just a week ago.
A truly seismic shift.
And that's before we factor in the ramifications of the Spotify takeover of Findaway, which will be the subject of our next TNPS Special Report on Audio in a few days time.