Free to view. TNPS will be presenting on the opportunities in the global audio market. September 29.
---
In 2020 the global audiobook market was valued at between $4.8-$6.8 billion. Almost all observers forecast substantial further growth in the coming decade.
How much might the global audio market be worth in 2030? The numbers – even the lower forecasts – are staggering.
Most publishers, when they think audiobooks, think Audible, and no question Audible is the biggest player in the field by subscriber numbers. But did you know Audible's market reach globally is less than half that of Storytel?
Tune in on September 29. The global audio market is bigger than you think!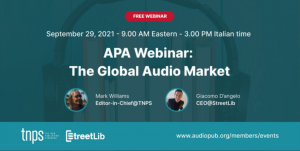 N.B. While TNPS is providing the content for this discussion, continuing unreliability of internet and power supply here in West Africa, where I'm writing this post from, mean TNPS publisher Giacomo D'Angelo will be making the presentation.
The TNPS take on the global markets – in broad strokes – will be in addition to a deep-dive presentation by Nielsen's Steve Bohme on the UK audiobook market.
Linda Lee will be moderating the discussion.
Our thanks to the Audio Publishers Association in the USA for hosting this event.