Storytel recently quietly rolled out its Saudi Arabia and Egypt platforms. Egypt started 2021 with 54.7 million people online – on par with Italy.
---
It was in 2018 that Sweden-based Storytel first ventured into the Arab digital books market, launching from Dubai, UAE. In doing so it went up against local players Dahd and Booklava and another service, Kitab Sawti, that launched in 2016 but curiously originated in Sweden like Storytel.
Per a TNPS report in June 2020, Kitab Sawti was doing well:
The platform has seen unprecedented growth during the past few months as global and regional lockdowns started shifting consumer behavior. In the past 4 months, the number of installs and registered users on Kitab Sawti's app has doubled, even more, the platform saw a 204% growth in total paid users, and a 6x growth of new paid consumers from January through to May 2020.

With supply-chains coming close to a halt in many countries the demand for digital products grew significantly.

Kitab Sawti had sales of SEK 2.4 million ($261,000) in 2019, and in 2020 saw subscribers double during the region's lockdown.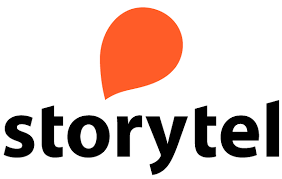 Not mentioned then was that negotiations for Storytel to buy out Kitab Sawti were at an advanced stage, and the official announcement came shortly after.
Per TNPS:
Sebastian Bond (Kitab Sawti CEO) will lead Storytel's operations as Storytel Arabia upgrades to become Storytel MENA, potentially encompassing all the Arabic-speaking markets of the Middle East and North Africa.
Since then the project has been developing behind the scenes and this week Storytel has made official what has been long anticipated.
Via a Storytel Sweden press release Storytel COO Ingrid Bojner said:
Storytel and Kitab Sawti have made themselves known as storytelling-focused innovators in the audiobook market both among consumers and publishers in the MENA region. It is really exciting to combine these two inspiring and leading audiobook platforms under one brand and create a powerful regional locomotive for audiobook experiences.

A strategic review was initiated following Storytel's acquisition of Kitab Sawti 2020. It has led to a joint team for Kitab Sawti and Storytel Arabia already in place, as well as the construction of a joint Storytel platform in the MENA region.
Leading Storytel MENA is the aforementioned former Kitab Sawti CEO Sebastian Bond, who said:
To constantly challenge ourselves and improve all dimensions of the customer experience – and strengthen the bonds between the audience and local authors and publishers – is part of our DNA. We are confident that a common platform will be both a catalyst for growth in the Arab market, and a greenhouse for opportunities and cooperation for our publishing partners and other commercial players.
I hope to be able to follow this up with more detail from Sebastian Bond in the near future.
Here just to note that we know Storytel has previously partnered with Careem to build a footprint in Saudi Arabia and Jamalon in Jordan, but it's not yet clear just how far Storytel's ambitions go in terms of the wider MENA Arab market that stretch across not just the core Middle East but also a large swathe of North Africa and, potentially, into West and East Africa where Arab influences are strong.
We also know Storytel has committed to being in 40 markets by 2023, up from 24 as this post goes live, with Indonesia and Israel imminent.
As speculated on many occasions, I expect MENA markets to provide several of that 40, and most likely on the hub model we have seen in Latin America and in Belgium.
In fact Storytel has quietly rolled out its Saudi Arabia and Egypt platforms, although no official announcement yet. Egypt started 2021 with 54.7 million people online – the same as Italy. Saudi Arabia has 31.8 million people online.
For now we have 24 markets live, with intent in Indonesia and Israel declared. But that 26 will still leave 14 new markets to materialise between now and 2023. How many more will be in MENA, only time will tell.