Whimsical publishing stories from around the world. Today five post excerpts from Thailand, Canada, Bangladesh, Brazil, Malaysia and the British Virgin islands.
---
Thailand: Swedish embassy invites to Pippi Longstocking's 75th anniversary at IKEA Thailand
The Swedish Ambassador Jon Åström Gröndahl together with Naanmee Books and IKEA Thailand invites to a "Non-Violence Workshop: How to keep children away from violence" on 29 November and 4 December 2020.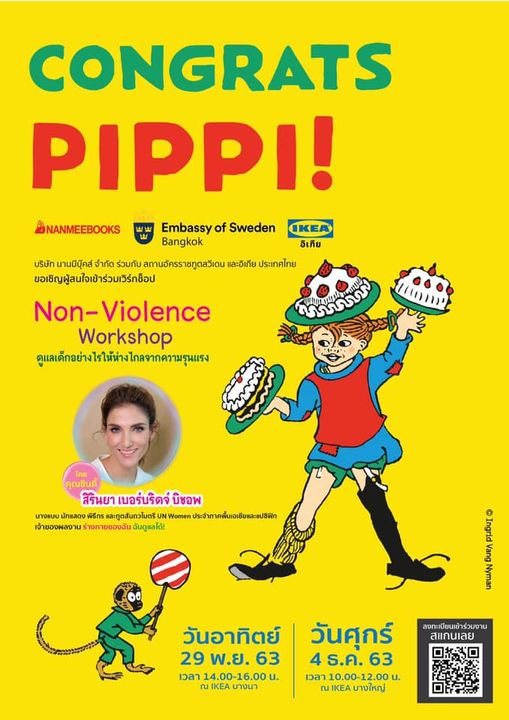 The host is talented model, actress, MC and UN Women's Goodwill Ambassador for Asia Pacific Khun Sirinya Cindy Bishop. She is also author of "My body my temple", a book aimed to teach children about their body, self respect and acceptance of others.
---
Bangladesh/Canada: Toronto's 'Bangla Book Fair' celebrates Bangabandhu's birth centenary
The fourteenth edition of the Toronto Bangla Book Fair, celebrating Bangabandhu's birth centenary the motto, 'Jibongronthe Notun Prishtha'. The two-day virtual event, 'Toronto Bangla Boi Mela and Mujib Shotoborsho Udzapon', was broadcast live on CanBangla TV.

Canadian Prime Minister Justin Trudeau and Bangladeshi Prime Minister Sheikh Hasina gave speeches at the inaugural session. The two-day long event will featured a virtual book fair, along with several cultural performances from artistes of Bangladesh and Canada, as well as documentary screenings and discussion sessions.
---
Malaysia: Former shuttler gets into the Asia Book of Records for the longest love poem!
"TAYLOR Swift or Shakespeare? Oooo, I'd rather be Shakespeare!" exclaims the short-haired, bespectacled girl seated in front of me, before breaking into a hearty chuckle that ends up permeating the cosy study we're in.

Mirth lacing her voice, Selinaah Muralitharan, who recently celebrated her entry into the Asia Book of Records for composing the "Longest Love Poem (English)", continues: "I don't want to write and tell the world about my love life! I mean, tell me who doesn't know about Taylor Swift's love life? I'd rather be like Shakespeare — a big mystery!"
---
British Virgin Islands: Dr Richard Georges Is BVI's First Poet Laureate
Dr Richard Georges was appointed the first Poet Laureate of the British Virgin Islands on November 20, 2020.

The British Virgin Islands are a British Overseas Territory in the Caribbean, to the east of Puerto Rico and the U.S. Virgin Islands and north-west of Anguilla. The territory appointed its first poet laureate in a ceremony at the H. Lavity Stoutt Community College at Paraquita Bay.
---
Brazil: Readers accuse the Brazilian publisher of homophobia and character whitening
The Brazilian publishing market has been turbulent in recent days due to a Twitter thread involving readers from different parts of Brazil and one of the country's largest publishing groups, the Record Group, which marks this year its 80th birthday. The same week the publisher received statuettes from the country's most important literary prize – the Jabuti Prize – online, some bullshit unfolded that ended up having international repercussions.