The five-book shortlist "covers the full span of the Arab world, from Morocco to Iraq" and a "a rich diversity of styles, themes and settings ranging from sprawling cities to humble villages."
---
The 15th Saif Ghobash Banipal Prize (2020) shortlist has been announced, with five titles hooked out from fourteen on the longlist, and three turned out to be from the same publisher.
Twelve novels, one book of poetry and a collection of short stories were in the running. That's not an easy selection to choose from, and the judges acknowledged as much in their statement, noting,
the difficulties of making comparisons between works in different genres or conceived on different scales, which sometimes demand different qualities from the translator and these factors are reflected in the shortlist (which embraces) a rich diversity of styles, themes and settings ranging from sprawling cities to humble villages.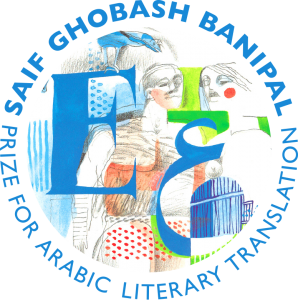 The judges added that it was,
Particularly noticeable that several of the works selected for the shortlist revolve around the lives and dreams of ordinary people, providing intimate insights into the societies concerned, which themselves cover the full span of the Arab world, from Morocco to Iraq. Writings of this sort pose particular challenges and demand a high level of sensitivity to the subtleties of the original Arabic on the part of the translator.
The shortlisted works are:

Trees for the Absentees by Ahlam Bsharat (Palestine)

Translated by Ruth Ahmedzai Kemp & Sue Copeland

Publisher: Neem Tree Press
A Shimmering Red Fish Swims with Me by Youssef Fadel (Morocco)

Translated by Alexander E. Elinson

Publisher: Hoopoe Fiction (an imprint of AUC Press)
Velvet by Huzama Habayeb (Palestine)

Translated by Kay Heikkinen

Publisher: Hoopoe Fiction (an imprint of AUC Press)
The Old Woman and the River by Ismail Fahd Ismail (Kuwait)

Translated by Sophia Vasalou

Publisher: Interlink Books
The Egyptian Assassin by Ezzedine C. Fishere (Egypt)

Translated by Jonathan Wright

Publisher: Hoopoe Fiction (an imprint of AUC Press)
The judges this year are:
Paul Starkey (Chair), Emeritus Professor of Arabic, University of Durham
Justine Jordan, fiction editor The Guardian
Nii Ayikwei Parkes, writer, publisher & broadcaster
Omar Al-Qattan, film director & philanthropist
For full details of the shortlisted titles head over to the Banipal Trust website. The winner, bagging a $4,000 prize, will be announced 11 February 2021.