Egypt's Bibliotheca Alexandrina held a virtual seminar at end June, titled "Fantasy Literature Between Criticism and the Book Experience".
Moderated by writer Jehan el-Sayed the seminar involved critic Ahmed Samaha, authors Amr el-Gendy and Nesma Atef and was supervised by Mounir Atiba, director of the Narration Laboratory at the Bibliotheca Alexandrina.
Akhbrna Today's News explained
Amr el-Gendy is an Egyptian writer, novelist, producer of short films, member of the Writers' Union of Egypt, and editor in more than one newspaper and electronic magazine.

Ahmed Samaha is a member of the Writers' Union of Egypt, the Arts Atelier, the Arab Critics Association, the Bloggers Union, the Poets Union, and others. He is a journalist, critic, poet, editor-in-chief of the cultural and opinion section of the Saudi Today newspaper, the editor-in-chief of the Journal of Electronic Literature and the current cultural advisor of the Center for Arab Literature.

Nessma Atef started publishing her work on her Facebook page, before issuing "Rewayet al-Entiqam" [Novel of Revenge], and "Tabaq Yoqadam Baredan" [Cold Dish], among others.
By the time this post goes live the event will be over, but is included here as an example of how different publishing stakeholders across MENA are either embracing the digital advantage or holding digital at bay, perceiving it as a threat rather than an opportunity.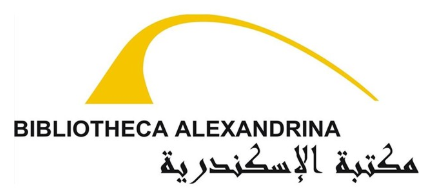 Bibliotecha Alexandrina has long been embracing digital – most recently in March it made available 20,000 digital books free of charge through its website during lockdown –
and is the modern incarnation of one of the world's first and greatest libraries, that was founded in the third century BC, but was itself by no means the first.
Much later Timbuktu in modern-day Mali would become the centre of the western hemisphere's books and learning – a reminder that the African continent and the Arab peoples are no strangers to books and learning.
The modern Bibliotecha Alexandrina is also a masterpiece of architecture.
I leave you with this aerial view of the Bibliotecha Alexandrina courtesy of the BA website.