The iOS-only launch of a new Manga subscription service may hinder its reach, but on the other hand its focus on legal English-language titles will give it an edge in the global markets.
Mangamo offers two-month trial for unlimited access to what will be over 300 legal titles split across 1,000 volumes, with new chapters added daily.
Initially some 11 publishers, including North Star Pictures, Toppan, Kodansha and Comicsmart, will be providing backlist and newly translated material to the service, which will cost $4.99 per month once the trial period expires.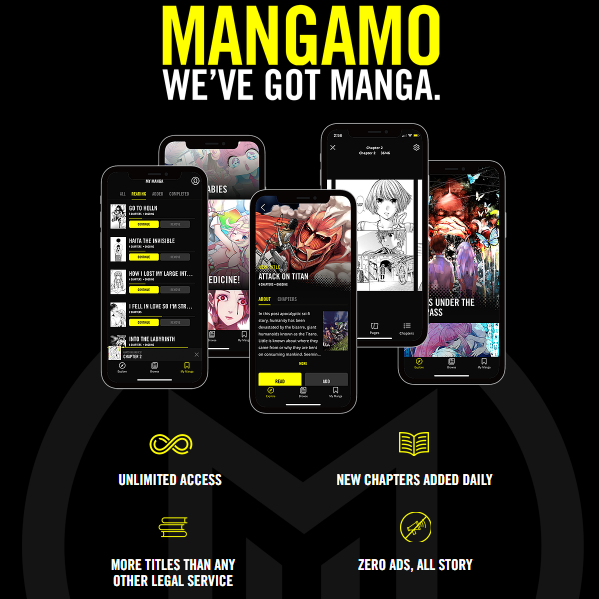 In a press release, Mangamo CEO and founder Buddy Marini said:
I grew up reading Manga and watching anime as a child in Japan, and I'm inspired by the global rise of this treasured Japanese form of entertainment.

Mangamo offers something I've always wanted as a fan: an easy and affordable way to read a ton of new Manga while giving back to the publishers and creators so they can continue to make the Manga I love.
The point about giving back to publishers and creators is well made. Piracy is a problem across the Manga publishing arena, and the Mangamo website makes much of the fact that, as mentioned above, all titles are legal.
For only $4.99 USD a month, you gain access to over 300 titles, legally!
But just in case we missed that point, Mangamo tells us it has,
More titles than any other legal service.
And should we still be in any doubt,
Subscribers gain unlimited access to over 300 titles, more than any other legal mobile application.
But no harm in reminding us once more, it seems:
Every Manga available on Mangamo is curated by our editorial team, professionally localized, and licensed from publishers legally.
Self-publishers need not apply.
While the Mangamo service purports to be accessible worldwide, there are exclusions, namely China, Japan and Korea.
The website makes no allusion as to whether an Android app might be coming, but without that the claim to be accessible worldwide is a weak one.
The bigger question, perhaps, is whether in the post-pandemic world there is room for a niche subscription service like this with relatively little content. The $4.99 price tag will work in its favour, of course, but as subscription services continue to proliferate in a depressed global economy a subscription market adjustment is inevitable at some stage in the next year or so.
For Mangamo the waters are muddied still further by the relatively slow take-up of digital comics and Manga outside the core Japan and Korea markets.
The two months free trial during the pandemic will no doubt see a high volume of trial subscribers. The real test will come as the trial period expires just as the harsh economic realities of the pandemic hit home hardest.