Even in countries where measures have not yet been as drastic as closing shops and stores, consumers are exercising common sense and staying at home as much as possible.
Online shopping has of course helped make that decision easier, but that still leaves the problem of opening the door to a delivery agent and taking in packages that could potentially be infected. Scientific assessments vary in detail, but the consensus is that the virus can survive for days on some surfaces.
Of course some products, like groceries, leave us no choice but to go collect or have physically delivered. But why take unnecessary risks?
Books, for instance, now come in physical and digital formats as standard, and digital books might have been invented for just such an international crisis as we are now witnessing.
From the comfort of a laptop, tablet or smartphone a consumer can choose, buy, pay for, have delivered and start reading/listening to a digital book without even having to get off the sofa, let alone step outside the front door.
No surprise then that publishers are shifting their efforts towards digital as bricks & mortar stores sales go into free-fall and online print sales falter.
But this is not a time to be profiting from a crisis, and more and more publishers are making digital titles available free of charge to offer some level of comfort and solace to consumers hit, or soon to be hit, by government and local authority measures to contain the coronavirus.
The latest example is Georgia, where the Georgian Publishers and Booksellers Association announced on twitter that publishers had joined together to offer 6,000 titles free of charge in digital format for the next month.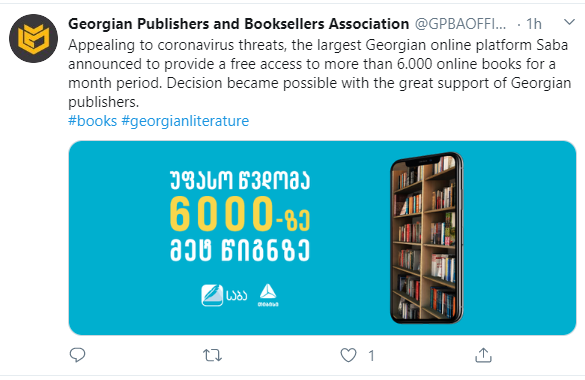 Earlier this week Publishing Perspectives reported on how Italy's Mondadori has made available 5,000 digital titles for Italian readers to download free of charge via Kobo.