It's getting hard to keep up with the list of major exhibitors announcing they will go nowhere near the London Book Fair this month. But it's even harder to keep up with the rationale behind the London Book Fair organisers insisting that the show will go on.
Around 3PM Tuesday March 3, @LondonBookFair tweeted this statement: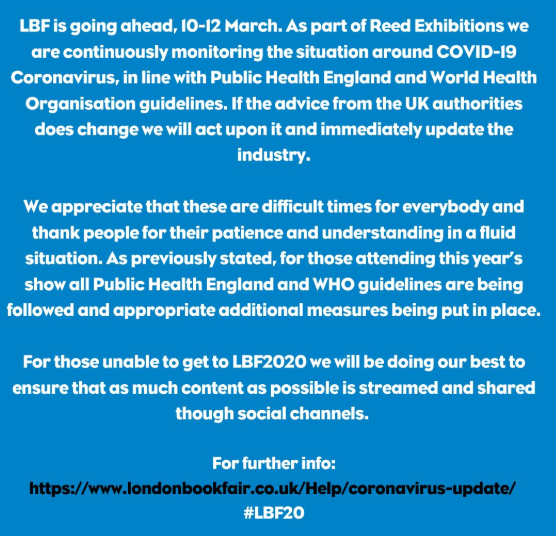 Incredibly this comes not only after all the major US publishers pulled out –
But also after the domestic and European body count began to stack up, along with more US pull-outs. Among far too many to list, say goodbye to PRH, Hachette Livre, Hachette UK, Pan Macmillan, Norstedts, Bonnier, Findaway, Scribd…
On twitter two clear responses are emerging to the LBF's stance, neither of them complimentary.
Irresponsible is a word being freely bandied about to describe LBF's refusal to postpone or cancel the event, while other commentators see a more commercial motive. As Richard Charkin observes, it may be LBF will only be able to claim on its insurance if the UK government blocks the event.

But the UK government will not be cancelling any events, it seems. Apparently inviting 25,000 people from around the world to convene in a closed venue for three days while the world is on the brink of a global pandemic is not an issue.
And yes, that will be the same UK government that is advising mortuaries to prepare for a half million Coronavirus fatalities.
Okay, so the London Book Fair has passed the buck to the authorities. Maybe for the insurance claim, maybe for some other reason beyond common-sense logic.
But I would ask London Book Fair what possible value they can hope to obtain from running the show in a massive venue designed for a world class event when at best there will be a handful of visitors and exhibitors better suited to a village fete.
It will be a ghost town.
I'll end this post with a reminder that earlier today the Leipzig Book Fair in Germany was cancelled, just two days after insisting the event would go ahead.
LBF, there's still time to do the right thing.