The joint StreetLib-TNPS bi-weekly newsletter Publish MENA – the digital advantage released its second issue a few days ago.
Publish MENA is a bi-weekly review of the Middle East North Africa Arab publishing scene across all formats, but with an unashamed tilt towards the digital opportunity unfolding.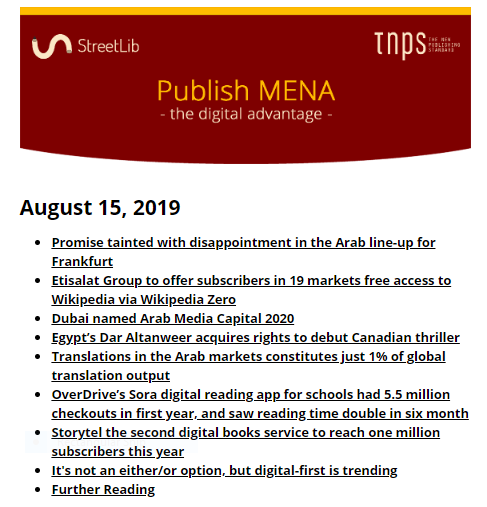 Written by TNPS Editor-in-Chief Mark Williams in The Gambia, West Africa and published by Italy-based global distributor and publishing facilitator and TNPS parent company StreetLib, Publish MENA – the digital advantage is not so much publishing news as insights into Africa's publishing opportunity as the continent transitions to a hybrid print and digital model.
You can find issue #2 here – and can subscribe via a button at the top of the newsletter or via the Publish MENA landing page.
The next edition of Publish MENA – the digital advantage will be hitting inboxes on Thursday August 29.