Pakistan's Government House will become an open house for three days starting February 1 as the country's first Adab Festival launches.
Co-founder and co-director Ameena Saiyid wants to provide,
artists, writers and poets with a platform to exchange ideas and engage in healthy debates (adding) It's also important to introduce new writers and poets to readers, so books by new authors would also be launched at the festival.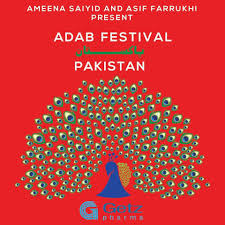 The event will involve 55 sessions with the participation of more than 100 local and international speakers drawn from poets and writers.
To keep the predicted 200,000 visitors happy activities will include book launches, feature talks, interviews, discussions, mushairah/poetry sessions, a book fair, music, dance, theatre, comedy/satire, and film.
Saiyid and co-founder and co-director Asif Farrukhi want 2019 to be a year of literary festivals in Pakistan, expressing their hope that the festival will,
spread to other parts of the country and take the shape of a movement so that whoever wanted to do such programmes in other cities of the country could do so.
The Getz Pharma Fiction Prize will be awarded to a book published in Pakistan in 2017-18, judged by a three-member jury.
The award, which seeks to promote excellence in fiction written in English, and comes with Rs 300,000 ($2,100) prize.
The deadline for submissions in 10 January and authors must be Pakistani or of Pakistani descent, but may have been published anywhere in the world between 2017-18. Self-published titles are welcome.
A press release from the Adab Fest notes that,
Some of the participants are: Iftikhar Arif, Zia Mohyeddin, Mustansar Husain Tarar, Kishwar Naheed, Mohammed Hanif, H. M. Naqvi, Zehra Nigah, Anwar Maqsood, Fawzia Afzal Khan (US), Tariq Khosa, Attiya Dawood and Nadeem Hussain.
Ian Vaughan-Arbuckle will also be coming. He was the British defence attaché in Karachi during Ayub Khan's rule. He will talk about the Karachi of the 1960s. Richard Heller from the UK is also a participant. He will do dramatic reading of P. G. Wodehouse's stories. Apart from that, writers and poets from all parts of Pakistan will be represented. The event will have discussions, a mushaira, comedy, book fair and other performances.
The planning for the Adab Fest has not been without controversy.
Originally the event was intended to be called the Pakistan Literature Festival, but Oxford University Press already uses that name for its own event and filed legal proceedings against the Adab organisers, which they say are being "rigorously contested," so Adab Festival Pakistan was settled on.
The word 'adab' signifies not just literature, but had a wider meaning containing elements such as culture, values and civilisations.
Festival co-counder Ameena Saiyid is no stranger to book festivals, nor to the OUP.
Saiyid joined OUP in Lahore in 1979 and in 1986 left to set up her own publishing house, Saiyid Books.
Sayid returned to OUP in 1988 to head OUP Pakistan, and has since been awarded the Order of the British Empire and the Chevalier de l'Ordre des Arts et des Lettres.
Sayid, accompanied by Asif Aslam Farrukhi, founded the Karachi Literature Festival in 2010 and, with Baela Raza Jamil, the Children's Literature Festival in 2011. The Islamabad Literature Festival in 2013.
Saiyid retired from the OUP in December 2018.
The OUP's regular Karachi Literature Festival will be run 1-3 March 2019. Last month the Karachi International Book Fair drew a crowd of 600,000 , which should leave us in no doubt that Pakistanis love their books!
600,000 visitors at Pakistan's Karachi IBF, but publishers and IT Minister do not yet see digital as a way forward in a country with more people online than Spain

Follow the Adab Fest on Facebook: @adabfest
Follow the Adab Fest on twitter: @adabfest #AdabFest #Adab2019