The second edition of Feria del Libro de la Costa is taking place on Argentina's Atlantic coast.
PublishNewsES reports nearly fifty major publishers are alongside booksellers and authors and a range of independent presses which have,
Revitalized the production of books in Argentina during the last 20 years (with their) commitment to new writers, with translations of high literary and academic value exported to all Spanish-speaking countries. They present originals, translations and adaptations for all types of readers. Novels, stories, poetry, philosophical essay, comics, children, history, anthropology, cultural studies, music, politics.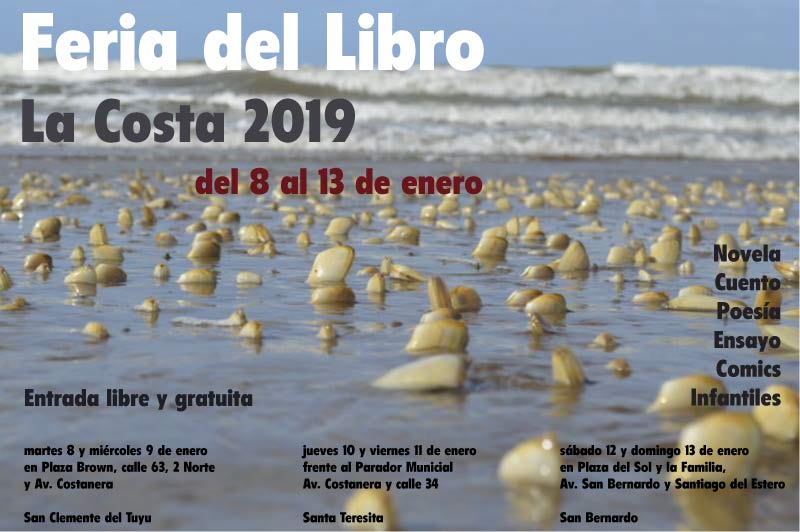 The fair, supported by the Secretariat of Production of the Municipality of La Costa is run across several towns and cities in the area.
(On 8 and 9 January) the activities will take place in various venues in the Buenos Aires town of San Clemente del Tuyú, on Thursday 10 and Friday 11 the activities will be held in Santa Teresita and finally the weekend (12-13) will be the turn of the city of San Bernard.
Among the publishers at the 2019 show, reports PublishNewsES, are Blatt & Ríos, Mansalva, Gorla, Cienflores, Santiago Arcos, Planta editora, Las cuarenta, Malisia, Pixel, EME, Milena Caserola, Bajo La luna, Mil botellas, Sudestada, Cuenco de plata, La libre, Madreselva and Loco Rabia.
Via PublishNewsES.
Argentina is best known for it's Buenos Aries International Book Fair, which regularly attract 1.2 million visitors and is the largest literary event in South America and the second largest in Latin America, after Cuba's Havana fair.
With over 40 million people online Argentina is also the largest Spanish-speaking country in South America by internet users, and second overall on the continent after Portuguese-speaking Brazil.
As we wind down this decade we can expect digital engagement between publishers and consumers to be ramped up considerably.
While it looks a safe bet Amazon's South America plans will not include the Argentina publishing industry any time soon, it's highly likely Storytel will launch in the country this year